December 29th 2015: Covering such a huge site is a challenge, so WiFi SPARK installed over sixty Ruckus T300 Access Points throughout Queen Elizabeth Olympic Park to ensure seamless roaming.
Ultra-high performance networking with fibre to each AP ensured a super-fast connection to the many thousands of users at the park.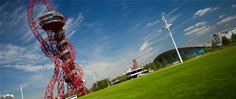 ArcelorMittal Orbit
Finding a provider who could install WiFi across such a vast site was a significant challenge. To give an idea of how large the site is, the Royal Mail gave it its own postal area, E20, which had only been used previously for the fictional London borough of Walford in Eastenders.
With more and more people using smartphones and tablets, the project was designed to give visitors to Queen Elizabeth Olympic Park easy access to online services. A User Experience Portal (UEP) that showcased the Park facilities was important, along with a content filter to ensure inappropriate content was not available to children.
Queen Elizabeth Olympic Park also wanted to gather information about visitors which could be used for marketing purposes but only with user consent. It was important that this information was secure and belonged to the Park, and would not be shared with any third party.
The solution is fully managed and supported by WiFi SPARK. A 24/7 support desk deals with any end user technical queries. This offers the client peace of mind and takes the responsibility of running the system away from its own IT department. Needless to say, the system is fully compliant to legal requirements for public WiFi access.
The solution:
With a wealth of experience working with high density wireless deployments, WiFi SPARK was the logical choice of partner for the project. Implementing Ruckus wireless hardware with the SPARK® Guest WiFi Management platform, to deliver the ultimate combination of features and scalability.
To support the density of users and devices, WiFi SPARK proposed a fibre optic LAN with dedicated fibre links to 64 Ruckus Zoneflex T300 access points across the Park. The T300s support 802.11ac and are designed explicitly for high footfall venues such as stadiums and outdoor urban environments. Management and control of the network was created in a high availability configuration with fully redundant active/active WiFi SPARK Gateways.
The SPARK® WiFi Management Platform delivers a Queen Elizabeth Park branded UEP to its visitors, provides the ability to promote activities and events via its newsletters as well as welcome returning visitors.
WiFi SPARK's analytics platform also provides both live and historic insights into the demographics of the users such as gender, nationality and age. Scheduled reports are sent directly to the Park. SPARK also has a restful API allowing the Park to receive data directly into their CRM.
Ben Edmonds - IT Programme & Change Manager at Queen Elizabeth Olympic Park says:
"The professionalism, diligence and passion WiFi SPARK showed was inspirational and rarely before have I worked with a group of such dedicated people with such a depth of knowledge and love for what they do."
Queen Elizabeth Olympic Park is part of a major legacy project to transform one of the most challenged areas in the UK into a world-class, sustainable and thriving neighbourhood. The provision of free visitor WiFi, from the resilient and proven WiFi SPARK Platform welcoming people to the Park and connecting them with the wider world, symbolises the rebirth of this previously neglected part of East London. WiFi SPARK was the logical choice because of the company's proven track record of providing connectivity to large outdoor areas as well as its excellent backup service to clients and end users.
Ben continues: "The feedback we are getting from both visitors and staff has been exceptional and I can foresee a long and fruitful relationship between ourselves and WiFi SPARK from this point on"
About Queen Elizabeth Olympic Park:
Queen Elizabeth Olympic Park was created in the East End of London for the 2012 London Olympic and Paralympic Games. Since then it has developed into a vast sports and leisure complex, with world class venues and attractions and 111 acres of unique parklands and outdoor space.
To ensure the Games leave a lasting legacy, the Park includes a major regeneration project with 10,000 new homes and a commercial district which will provide more than 20,000 jobs over the next ten years.
Queen Elizabeth Olympic Park became familiar to millions of TV viewers during the 2012 London Olympic and Paralympic Games as Chris Hoy, Mo Farah, Sarah Storey, Victoria Pendleton and others raised the roof with stunning gold medal-winning performances.
The world class facilities in the Park are now open to the public and the main stadium is due to reopen in 2016 as the home of West Ham United and UK Athletics, making the Park an important sports hub for the South East.
Although it was created for London 2012, the Park was designed to have a life beyond the Olympics as a vital outdoor space in the East End. The vast site is one of the biggest urban parks created in Europe since the Victorian age. With so much space, the Park plays host to a breath-taking range of opportunities. There are play areas, climbing walls, water features, pleasure gardens, cafes and wildlife reserves, all connected by miles of pathway. The Park also supports arts and culture, from the revolutionary ArcelorMittal Orbit tower to local neighbourhood projects. With so much to offer, Queen Elizabeth Olympic Park has become one of London's iconic public spaces.
About WFS:
WiFi SPARK is a specialist WiFi network solutions provider with an extensive portfolio of active locations across the UK, including the National Exhibition Centre (NEC) in Birmingham, MDL Marinas which is Europe's largest marina group and hundreds of NHS hospitals. The revolutionary architecture of SPARK® enables businesses to provide a branded WiFi Experience to guests, and target additional revenue streams through advertising and data collection.
WiFi SPARK solution offerings range from single small sites to large-scale urban deployments, all based on the unique SPARK® software platform. No other wireless network provider can offer the same adaptability, span of features, and ultimately, return on investment.
Press contacts:
Rebecca O'Donovan | 0344 848 9555 | marketing@wifispark.com