Join 100 of the fiercest customer centric experts in Lisbon for Unbabel's Customer Centric Conference on June 6th.

Lisbon, April 04, 2019: Limited registration is now open for Unbabel's Customer Centric Conference (CCC), which will bring together key experts, technology and ideas at the heart of customer experience from across Europe and North America.
The conference will see experts presenting and attending from Vimeo, Rakuten Marketing, Majorel, Concentrix, Universe, and Booking.com, among others.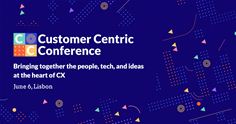 Customer Centric Conference
The AI-powered, human-refined translation customer service solution provider is releasing a small number of tickets for customer experience specialists to join its customers, industry influencers, key speakers and media as they discuss the key trends, challenges, and opportunities in customer service today.
Held during Lisbon's most iconic celebration time, attendees of the June 6th event will get an opportunity to enjoy the city's festivities as well as insight from some of the top customer service advocates in the industry, with several customer case studies presented live during the course of the day.
The event will also give attendees the chance to network with peers and Unbabel executives, as well as participate in an interactive, discussion-led agenda. There will be a series of breakout sessions under the following themes.
"Doing more with less": Leveraging technology to support a bigger number of increasingly demanding global customers while keeping a lean team.
"Knowing what to measure": If you're like us, you're tired of relying on CSAT. What should we measure and why?
"Learning from disaster": When disaster strikes, customer advocates are the first responders. How do we prepare, what can't we prepare for, and how do we maximize learning in the aftermath?
Vasco Pedro, Unbabel co-founder and CEO, commented: "Our Customer Centric Conference is a meeting of the best minds in CX today who want to break down barriers so that everyone across the world who buys a product or service has access to great support. We purposely keep numbers to a strict 100 for this event to maintain a strategic focus on innovation in customer service technology, and our presenters are going to discuss and demonstrate some really cutting edge trends powering their support operations."

Click here to register your interest for Unbabel's Customer Centric Conference today: https://unbabel.com/news/unbabel-opens-registration-for-exclusive-lisbon-customer-centric-conference/

-END-
Contacts
For further event information: Mariana Silva at ccc@unbabel.com
For media enquiries: Ilona Hitel: +44 (0)203 697 6680 / ihitel@thecommsco.com

About Unbabel
Unbabel's Customer Service Solution allows modern enterprises to understand and be understood by their customers in dozens of languages.
Powered by state-of-the-art AI and refined by a global crowd of thousands, Unbabel helps global brands like Booking.com, Facebook, Skyscanner, easyJet, Under Armour and Rovio remove language as a concern, increasing customer satisfaction and building a more efficient customer service operation in the process.
Backed by Scale Venture Partners, Notion, Microsoft Ventures, Salesforce Ventures, Samsung NEXT and Y Combinator, Unbabel is accelerating the shift to a world without language barriers.
For more information visit unbabel.com