Google's International Growth Team partners up with Unbabel
Partnership will help Google's clients provide multilingual customer support
Announcement of Unbabel and Google joint webinar on May 21
London, UK; Lisbon, Portugal. 20th May 2019. Unbabel, the leading enterprise multilingual support provider, has launched its partnership with Global Business Solutions, provided by Google's International Growth Team, aimed at providing enterprises with the power to support customer queries in up to 29 languages seamlessly.
Google's International Growth Team aims to remove clients' operational hurdles through Google's best-in-class operational advisory and partner network on localization, global payments, international logistics and global CX solutions.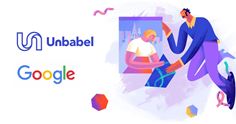 Unbabel & Google
Google chose Unbabel to help clients overcome one key obstacle to internationalization: the language barrier in customer service. By including Unbabel's AI-powered, human-refined "translation-as-a-service" model as part of a toolkit it offers to enterprises, Google is helping clients to scale their businesses abroad and improve their customer experience globally.
"A key enabler of success for the program is the partner network that we extend to our advertisers," said Rebecca Walsh, International Growth Program Manager at Google. "We're very excited to partner with Unbabel to help accelerate our clients' international expansion and ensure a consistently high-quality experience in their customers' native languages."
The announcement comes ahead of a joint webinar, "Go global, serve local: accelerating growth with Unbabel", on seamless multilingual customer support, presented by Unbabel and Google, on May 21. With registration now open, the webinar is an opportunity for companies to learn how to provide operationally efficient customer support in every language without compromising on quality.
Vasco Pedro, CEO of Unbabel, commented: "Our partnership with Google is a significant moment in the future of global customer service. Our unique technology coupled with Google's global reach will, I hope, make it easier than ever for companies to serve their customers in their native language."
ENDS
About Unbabel
Unbabel's Customer Service Solution allows modern enterprises to understand and be understood by their customers in dozens of languages.
Powered by state-of-the-art AI and refined by a global crowd of thousands, Unbabel helps global brands like Booking.com, Facebook, Skyscanner, easyJet, Under Armour and Rovio remove language as a concern, increasing customer satisfaction and building a more efficient customer service operation in the process.
Backed by Scale Venture Partners, Notion, Microsoft Ventures, Salesforce Ventures, Samsung NEXT, and Y Combinator, Unbabel is accelerating the shift to a world without language barriers.
For more information visit unbabel.com
Contacts
For interview and commentary requests, please contact the following:
UK & Europe: Edward Clark: +44 (0)203 697 6680, eclark@thecommsco.com
US & Canada: Jennifer Reid: +1 778-772-0754, jreid@thecommsco.com
©2018 Google LLC All rights reserved. Google and the Google logo are registered trademarks of Google LLC.