We all love eating out - whether at the coolest new burger joint or high-end Michelin starred restaurant. However, noise issues at restaurants are becoming an increasingly common complaint, and sound disturbances are now impacting on our culinary experience, making conversation and relaxation a near impossibility. Common problems include loud music, kitchen noise, plates smashing, food equipment, outside traffic, couples arguing, children shouting and intercoms.
The issue of acoustic absorption is often overlooked at the initial design stages of any new restaurant, but ignoring these problems can affect the health and safety of employees, as well as discourage customers.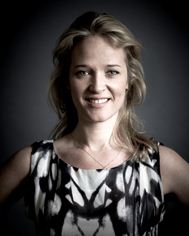 Poppy Elliott, MD Quiet Mark
Step forward The Woolly Shepherd; a natural acoustics company based in Somerset, responsible for creating a unique, sound absorbing wool cloud, specifically designed to soak-up unwanted reverberations so that people can enjoy a more peaceful dining experience.
Woolly Shepherd was recently awarded the Quiet Mark, the international mark of approval programme and system of support for consumers and industry, developed by the UK Noise Abatement Society, to help transform the aural environment for the benefit of all.
Poppy Elliott, Managing Director, Quiet Mark, comments: "Woolly Shepherd cloud is exactly the type of product that we love to recognise at Quiet Mark. It is beautifully simple, does not impact on the quality of your experience and makes a significant difference to the noise levels in the locations it is deployed in. I for one will be looking for the Woolly Shepherd clouds at any restaurant that I visit."
These innovative clouds are the only natural material eco-solution on the market and utilise the properties of 100% natural wool in combination with other sustainable, low impact materials to create high performance alternatives to industry standard, highly processed mineral and oil-based products.
Having been installed previously at a variety of leading restaurants and schools, community centres, businesses and homes, including several prestigious National Trust properties, the Woolly Shepherd acoustic clouds can also be seen and experienced at Quiet Mark, The Technology in Harmony Soundscape exhibition (sponsored by Lexus) at RHS Hampton Court Flower Show, Central Celebrity Catwalk in Bloom Marquee. This will be an extraordinary soundscape experience taking place at the RHS Hampton Court Palace Flower Show between the 9th–14th July, developed by Quiet Mark.
To attend the exclusive press launch on Monday July 8th, at RHS Hampton Court Flower Show, please contact lloyd@liberatemedia.com.
Woolly Shepherd is also already the holder of a Platinum-level national sustainability award from London-based Think.Eat.Drink, and has been nominated for a Yeo Valley Business of the Month award.
Jamie Grainger-Smith of Think.Eat.Drink enthuses: "It really is amazing how discarded wool can function in such an effective manner. These clouds absorb everyday restaurant noise flawlessly, and help mould the acoustics of most restaurants to contribute to the right atmosphere and ambience for customers; minimising any unwanted noise. The success of the product also signifies a growing need for modern sound absorption techniques, benefitting not only restaurants but all types of events."
Woolly Shepherd director Tim Simmons concludes: "We are particularly pleased to be recognised for our work in the field of sustainable business. We work hard to source our raw materials from ethical, UK sources wherever we can. We also create extremely low levels of waste and see no conflict between successful business and ethical trading. Let's hope our clouds are as warmly received at this year's RHS Hampton Court Palace Flower Show, as they have been in the restaurant world."
-Ends-
About Quiet Mark
In our stressful lives we are surrounded by a cacophony of sound that we have little power to stop. The louder the noise around us the more energy we waste to overcome it, and it is getting worse day by day. If we don't do something about this soon, our ability to hear the subtle sounds around us will disappear. Quiet Mark is embarking on a journey to redress the situation, to create a demand for the use of quieter technology in our homes, in our workplace and in the open air.
Quiet Mark, a not-for-profit trading arm of the Noise Abatement Society charity, sprang from the response to public complaints received by the Society's 24/7 national noise helpline, concerning the volume of excessive noise made by household tools and appliances which invade the fabric of everyday life.
Quiet Mark brings the answer with a universal symbol and system of support for consumers and industry alike and is a vehicle to finance transformation of the aural environment for the benefit of all. Quiet Mark product submissions are assessed by a team of the UK's leading acousticians at the Association of Noise Consultants.
The response from industry internationally has been overwhelmingly positive with over 40 leading global brands across first 30 product categories, from dishwashers to garden tools, now on board including AEG Electrolux, Dyson, LG, Mitsubishi Electric, Panasonic, Philips, Samsung and Whirlpool. They have all achieved awards for their quieter products with the distinctive purple Quiet Mark logo. The world's first quiet showcase featuring the award winners and other practical peacemaking solutions, including Quiet Mark's Win a Quiet Life in 2013 monthly promotion, can be seen at www.quietmark.com
About the Noise Abatement Society
The remit of this national charity is to abate excessive and unnecessary noise to protect the public and improve the environment. Working with Government and Industry over the last fifty years the Noise Abatement Society has achieved a reputation for collaborative partnerships to find practical solutions to noise problems, underscored by programmes to raise awareness and educate about measured, considered and responsible use of sound. www.noiseabatementsociety.com
Quiet Mark Press contacts
Liberate Media:
Lloyd Gofton – mobile +44 (0)7919 353484; Email: lloyd@liberatemedia.com
Tim Greenhalgh – mobile +44 (0)7808 608416; Email – tim@liberatemedia.com
Jeremy Lloyd – mobile +44 (0)7554 443520; Email – Jeremy@liberatemedia.com