LANDesk Service Desk 7.5 streamlines service desk operations for over 2,000 users
LONDON – 15 April, 2013 – LANDesk Software, a global leader in PC lifecycle management, endpoint protection and IT service management, today announced that the Clinical School Computing Service (CSCS) at the University of Cambridge has chosen LANDesk Service Desk 7.5 to deliver a better customer experience and greater transparency across the University's IT operations. LANDesk's solution will support CSCS's 2,000 users across 80 customer groups affiliated with the University.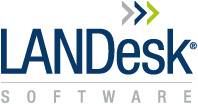 LANDesk logo
Last year, CSCS were using several software applications to manage their service desk – one to log incidents and service requests, one to record assets and one to record users and billing information. The constant manual intervention created room for error: key data had to be manually copied each month between the applications to facilitate the monthly billing, and the billing reports were manually run, printed and posted to customers. As the applications were not easily customisable, any changes to functionality required not only in-depth knowledge of the individual systems but also appropriate programming skills.
"As one of the largest providers of IT services at the University, we have thousands of customers relying on us to support them and their devices quickly and accurately. With our dated, disparate systems, we just weren't able to keep up with the number of incidents or complexity of issues, which caused frustrations," said Mihaela Damian, Project Manager at CSCS. "We knew we needed to upgrade to a service desk that could guarantee accuracy and simplicity."
After receiving a demo of LANDesk Service Desk 7.5 at the Service Desk and IT Show in April 2011, CSCS considered a shortlist of vendors and eventually honed in on LANDesk, as its solution could merge all databases into a single system, increasing efficiency in the team and reducing overall costs.
"With LANDesk, we now have a fully integrated, automated solution we can trust – one that allows us to be more proactive and service-oriented. Our teams have more time to focus on customer support rather than back-end problems, and we're at ease knowing we have a reliable service desk that's able to keep up with our business," said Mihaela. "Through it all, the LANDesk team has been incredibly helpful, providing sound guidance and support from initial conversations to deployment."
In the future, CSCS plans to enrich their LANDesk portfolio, further automate the Service Desk processes, and implement a comprehensive customer-oriented self-service solution to provide a more transparent, effective and overall more professional IT service to their customers.
"We're proud to be working with CSCS to transform their service desk operations into a one-view, robust solution that's able to scale with their needs," said Nigel Seddon, Sales Director at LANDesk. "It's never been more important for IT departments to understand what's going on across their business, and with LANDesk Service Desk 7.5, we can guarantee that customers will have easy-to-use, accurate access at all times. We're looking forward to working with CSCS in the future to bring even more functionality to their service desk."
###
About LANDesk Software
LANDesk Software is the industry's leading provider of IT end user management, including integrated systems and asset management, endpoint security, virtualization management, end-to-end mobility, and user-oriented IT service management solutions. LANDesk provides an adaptive IT delivery model to help IT organizations increase end-user productivity. LANDesk is headquartered in Salt Lake City, Utah, with offices located in the Americas, Europe and Asia Pacific, and can be found at http://www.landesk.com/.
Copyright © 2012, LANDesk Software, Inc. and its affiliates. All rights reserved. LANDesk and its logos are registered trademarks or trademarks of LANDesk Software, Inc. and its affiliates in the United States and/or other countries. Other brands and names may be claimed as the property of others.
About Clinical School Computing Service
CSCS is one of the largest providers of desktop support within University of Cambridge. We provide helpdesk, server support (1st, 2nd and 3rd line), and specialist services support (software systems development) to a heterogeneous environment of equipment across many departments in the School of Clinical Medicine and affiliated research groups. We currently support about 2000 users and are likely to expand.
Press contacts
Keira Anderson
Porter Novelli
Tel: 0207 853 2289
Email: keira.anderson@porternovelli.com
Sarah Lewis
LANDesk Software
Tel: 01344 442164
Email: sarah.lewis@landesk.com