- William Hill Invest £1 Million In England's Future -
Does your child dream of playing for England? Are they showing signs of a right foot better than Becks? If so, you could be in with a chance of winning £5,000 through Official England Supporter William Hill.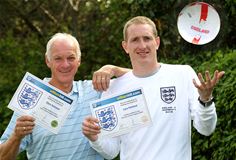 William Hill - Chris Kirkland
With the Euros around the corner, 2012 is the summer of football and William Hill is investing a whopping £1 million in the future of England football stars through its 'Back Your Pride and Joy' campaign.
If you think your child or relation could one day wear the famous three lions badge, take advantage of William Hill's free £5 bet certificate at odds of 1000/1 if your 'pride and joy' one day plays for the England men's or women's senior team.
And it really does pay dividends as England International goalkeeper, Chris Kirkland's dad Eddie will vouch: "When Chris was eleven years old, I backed him at 100/1 to win a senior England cap. After a few injury scares, Chris won a cap in 2006 against Greece and I netted £10,000 as a result! I just wish I had been given 1000-1!"
Chris, 31, is now a father himself and has claimed his own 'Back Your Pride and Joy' certificate for his 5-year old daughter Lucy to play for the England senior women's team: "After my dad's success, I've seen the small fortune that can be made – but even better, this time it's for free! This is a fantastic opportunity for families with talented offspring."
William Hill spokesman Joe Crilly said: "As Official England Supporter, we're proud to be investing up to £1 million worth of stakes in footballs rising stars. 'Back Your Pride and Joy' is bound to be a very popular promotion, so get in there quick!"
So if your son, daughter, niece or nephew could be the next Wayne Rooney or Kelly Smith, simply have a £10 bet on any football market at a William Hill shop or online at williamhill.com then visit williamhill.com/playforengland to customise your very own £5 free bet certificate.
But hurry, once the 200,000 available £5 stakes are gone, they're gone!
As an Official England Supporter, William Hill has exclusive interviews with Roy Hodgson. Check out williamhill.com throughout the Euro 2012 season for his thoughts on the England team's upcoming matches.
- ENDS -
For more information contact the William Hill Press Office:
James Knott +4420 79086459 jknott@lexisagency.com
Tony Kenny +447714 138698 tony.kenny@williamhill.co.uk
Terms and conditions
Certificate entitles customer to £5000 (equivalent to a £5 bet at odds of 1000/1) if the named person on the certificate plays for the England Men's/Women's senior football team.
One certificate per named person and betting transaction.
Only one certificate claim per child.
Certificate cannot be exchanged for cash.
Offer not valid for phone betting.
Named person cannot be signed with or have played for any professional or associated academy football club at the time the time the certificate is requested.
Certificate must be presented along with valid birth certificate for the named person when claiming the bet.
Employees or agents of William Hill or The FA, their family members or anyone else connected with the free bet may not use this certificate.
William Hill rules apply. Over 18s only.
For advice & information visit www.gambleaware.co.uk
About William Hill
William Hill, The Home of Betting, is one of the world's leading betting and gaming companies, employing more than 15,000 people. Founded in 1934, it is now the UK's largest bookmaker with over 2,370 licensed betting offices (LBOs) that provide betting opportunities on a wide range of sporting and non-sporting events, gaming on machines and numbers-based products including lotteries.

William Hill Online (http://www.williamhill.com/) is one of Europe's leading online betting and gaming businesses, providing customers with the opportunity to access William Hill's products online, through their mobile, by telephone and by text services. William Hill PLC is listed on the London Stock Exchange and generates revenues of over £1.1bn a year.