Utility company switches to ITIL principles with self-service to embed best practice service management across organisation
Chessington, Surrey, 25th July 2018 - Sunrise Software, a leading supplier of IT service management (ITSM) software, today announced that fast-growing energy provider Utilita has implemented Sunrise ITSM SaaS. The adoption of ITIL best practice and launch of self-service IT support were key assets in the fast-track ITSM shake-up required to support Utilita's rapid business expansion. In 2015 Utilita set a target to grow by 600%, and it now serves over 600,000 domestic customers, adding 100,000 in the last nine months of 2017 alone. 60% of incoming IT service requests from employees are now received through its new self-service portal, while performance is tracked against over 30 business critical Service Level Agreements (SLAs).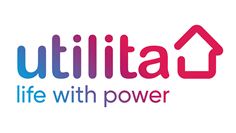 Utilita logo
Utilita's service desk supports 1,500 staff, ranging from those in central and regional offices to engineers working in the field. While its previous service desk ticketing tool was able to handle the 36,000 annual calls that the team received, an independent assessment found that it lacked the ability to track trends, analyse activities or support the continual improvement and ITIL methodology that the growing business required.
After defining its key criteria, Utilita researched the market, selecting Sunrise ITSM due to its ease of use, and its ability to improve service quality, demonstrate value and support service management best practice. Following a rapid implementation process facilitated in just 3 months from initial engagement by Sunrise's Professional Services team, Utilita went live with Sunrise ITSM SaaS in March 2018.
"At Utilita we have ambitious goals and it is therefore critical that IT and the service desk are effectively supporting the business," said Dave Woods, IT Support Manager, Utilita. "The key to our success has been knowing what we wanted to achieve – and Sunrise has responded to our needs admirably, providing us with a practical and adaptable SaaS based platform to deliver on our plans, fast, now and in the future."
By using Sunrise ITSM SaaS, Utilita is able to ensure that business SLAs are clearly defined, with the Sunrise SDI certified reporting suite used to extract and track the most meaningful metrics. A new Self-Service Portal makes it easy for users to log requests, including automated approvals and notifications and enabling the new starter process to be fully co-ordinated – vital given Utilita's rapid growth. Over 60% of requests are now through self-service rather than the phone or email – testament to the background work undertaken in understanding users' needs in developing the intuitive yet thorough self-service portal.
A key reason for the project's success has been building strong engagement between IT and the wider business, with a major emphasis on communication and marketing. This has included workshops, open meetings and roadshows as well as publicising the service desk's achievements through Twitter, the company magazine and at the 2018 SDI conference.
Geoff Rees, Director of Business Services and Sales at Sunrise Software, comments: "In today's digital world, IT support is at the heart of business growth. Utilita is a textbook example of how adopting best practice, good plans and close engagement with the business drives real results and underpins major company growth."
Continuous improvement is at the heart of the project, and the IT team now plans to incorporate a knowledge base into the customer portal to help self-fixing of issues. It is also aiming for SDI certification to deliver further endorsement and independent recognition of its success.
To read a full case study on how Utilita uses Sunrise ITSM SaaS https://www.sunrisesoftware.com/casestudies/case-study-utilita/.
- ENDS -
About Utilita
Utilita Energy are one of Britain's fastest growing independent energy suppliers. We uphold a fair price, offer an easy-to-understand product and provide complete transparency with our service offering. Our aim is to always keep things simple – we want our customers to feel in control of their energy usage and spend. Established in 2003, we have the vision of simplifying the service customers were used to receiving from the Big Six. A large number of our customer base have joined us through word of mouth, which we believe is testament to the quality of our product and service, plus, we're a Which? Top 5 Energy Supplier for Customer Satisfaction 2018.
About Sunrise Software
Sunrise's expertise in IT Service Management software is built on the experience of working with hundreds of clients – across all sectors and industries. In an age where customer and employee experience is driven by high expectations, we aid organisations in the management of efficient business processes to help them achieve their end goals. Sunrise's customers use ITSM software to manage workflows, track and record workplace tasks, events and activities to deliver greater productivity and customer satisfaction across the organisation.
By working hand-in-hand with enterprises, service providers and public sector entities, Sunrise provides software that becomes the backbone for delivering and managing services within their organisation. Sunrise's fully configurable solution can be implemented via SaaS or on-premise and extends from ITSM and External Customer Service and Shared Service desks, through to HR, Finance or Facilities Management teams.
Headquartered in Chessington, UK, Sunrise Software, an IBM Business Partner, has two decades of experience in the service management and service desk industries and harnesses this knowledge to deliver solutions that meet real business needs.
For more information, please visit: www.sunrisesoftware.com or connect with us on Twitter, or LinkedIn
Media Contact
Ann James
Marketing Director
T: 020 8391 9000
E: ajames@sunrisesoftware.com
Chris Measures
Measures Consulting (PR agency for Sunrise Software)
T: 07976 535147
E: chris@measuresconsulting.com