Farnborough, UK — Bohemia Interactive Simulations (BISim), a global developer of military training and simulation software, announced today that the UK Ministry of Defence acquired an enterprise licence of the company's flagship software Virtual Battlespace 3 (VBS3) as the UK MOD's Defence Virtual Simulation (DVS) solution.
DVS will be the UK MOD's common virtual simulation tool to provide interoperable, accessible and deployable virtual simulation capability across the MOD. The DVS capability will enable simulated activity across all levels of training, including live and virtual simulation, education and experimentation.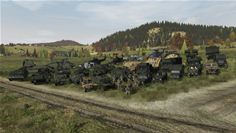 VBS3 selected for DVS
"Our association with the MOD began in 2007 with their acquisition of an enterprise licence for VBS2, and we are very pleased to continue this association by now providing our VBS3 software that is used for military training the world over," said Rusmat Ahmed, BISim's vice president of sales in EMEA. "By investing in DVS for UK Defence, MOD brings UK expertise to the very active group of European and Allied countries using VBS3 for training, as well as benefitting from the pool of international innovation and best practice of VBS3 users."
Virtual Battlespace 3 (VBS3) is a comprehensive desktop training package and simulation host based on commercial video game technology. Simply load VBS3 onto a PC and use the supplied tools and models to set up a scenario and start training. Shaped and refined by over 10 years of customer feedback, VBS3 is the de facto standard in game-based military simulation and meets hundreds of training use cases. For DVS, VBS3 will support a wide range of domains for training including mounted and dismounted land, naval vessel, fast air and rotary wing for both individual and collective tasks.
John Brookes, Joint Training Section Deputy Head within the Soldier Training and Special Programmes team at the UK MOD's Defence Equipment and Support, said that, "VBS3 software is exceptionally capable and fulfils a large and diverse range of our simulation requirements for individual and collective training, experimentation and force development. The software's new role as the Defence Virtual Simulation solution means it will help the MOD realise the Defence Training & Education Coherence vision, allowing us to deliver more and better simulation to our users across the UK's armed forces."
VBS3, which is used each year by hundreds of thousands of military personnel worldwide for training and simulation, provides an immersive virtual environment that helps military personnel train on tactics, rehearse for missions, and practice standard operating procedures. Included with VBS3 is VBS Radio for voice communications between remote users participating in training exercises, supporting filtered voice playback for after action reviews and which is DIS-enabled for networked exercises. The DVS solution includes the enhanced VBS Radio Pro version, which offers unlimited channels and degradation based on distance and weather, features not included with the baseline version of VBS Radio.
VBS3 also includes VBS Gateway, a user-friendly application that allows for interoperability with external HLA(e)/DIS simulations, as well as supporting CIGI allowing VBS3 to drive CIGI compliant image generators. DVS also benefits from the latest optimizations for large, networked multiplayer scenarios, with increased stability and performance.
VBS is used in more than 30 countries by military organizations such as the U.S. Army, U.S. Marine Corps, Australian Defence Force, French Armed Forces, Bundeswehr, Swedish Armed Forces, Canadian Armed Forces, and New Zealand Defense Force.
BOHEMIA INTERACTIVE SIMULATIONS
Founded in 2001, Bohemia Interactive Simulations (BISim) is a global software company at the forefront of simulation training solutions for military and civilian organizations. BISim utilizes the latest game-based technology and a large, experienced in-house team of engineers to develop high-fidelity, cost-effective training and simulation software products and components for military applications. Learn more at bisimulations.com.
Media Contact: David Dadurka
Phone: 407-608-7000
Email: marketing@bisimulations.com