Access and control a computer from your Android mobile or tablet device with the new VNC Viewer application from RealVNC available from the Android Market
10th February 2011, RealVNC has launched its new VNC Viewer for Android, available to download now from the Android Market. Following the success of VNC Viewer for iPhone and iPad on Apple's App Store, this latest application allows users to connect to and take full control of a computer anywhere in the world from their Android mobile or tablet devices.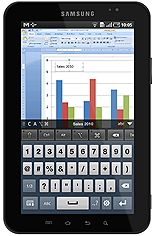 Android Samsung Galaxy Tablet with RealVNC
With VNC Viewer for Android, users can view and interact with their desktop, run applications and access files, exactly as they would if they were sitting in front of the computer itself. The app is ideal for personal and professional users alike, giving individuals the freedom to access their computer whilst travelling or as a tool for business users such as IT help-desk staff, enabling them to remotely support colleagues or access servers for troubleshooting wherever they are, reducing downtime and out of hours trips to the office.
The app offers a trackpad-style mouse for precision interactions and users can apply familiar touch, tap and drag gestures to control the computer, pinching to zoom into a specific area of the desktop or zooming out to see the entire screen. Text can be entered using the on-screen keyboard and a scrolling key bar for non-character keys such as cursor keys and Shift, Ctrl, Alt and Delete. VNC Viewer also features mouse button mode, incorporating virtual left, middle, right and scroll mouse buttons.
Android devices equipped with VNC Viewer can connect to any Windows, Mac OS X, Linux, or UNIX computer installed with and running a VNC compatible Server. The recommended Server is VNC Enterprise Edition that provides robust, high-performance connections along with industry standard AES security. 
"Following the success of VNC Viewer for iPhone and iPad, and staying true to our cross-platform roots, we have launched VNC Viewer for the Android platform," said Dr Andy Harter, CEO at RealVNC. "Android users will now be able to access VNC remote control capabilities on their mobile or tablet device, in a way that is fast, simple and cost effective."
RealVNC will be demonstrating VNC Viewer for Android at the Mobile World Congress between the 14th-17th February, stand No. 2J69 hall 2. 
Review copies of VNC Viewer for Android are available on request.
About RealVNC
RealVNC's software solutions are used by hundreds of millions of people in both desktop and mobile platforms for remote access and control. VNC® is used widely in hundreds of different applications, from helpdesks to virtualization. RealVNC's commercial products have been shipped to customers in all sectors throughout the world.
RealVNC also works with many OEM partners to license VNC technology for inclusion in their product or service and is the only organization able to offer a commercial license to embed VNC in third-party products and offerings.
For more press information, please contact:
Peter Rennison / Allie Andrews 
PRPR, Tel: + 44 (0)1442 245030, pr@prpr.co.uk or allie@prpr.co.uk