A global leader in unified endpoint management software solutions, VXL Software's Fusion UEM has successfully integrated a full remote management support feature, exclusively for CipherLab's world-renowned AIDC (Automatic Identification and Data Capture) mobile computer and barcode scanner ranges.
Working closely with CipherLab, market leaders in AIDC products since 1988, VXL Software's Fusion UEM, unlike other device management products, will now not only give administrators visibility but also provide full management control of CipherLab's android based mobile computer and barcode scanner range from anywhere in the world.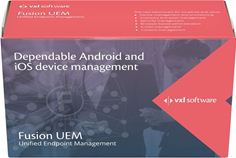 Fusion UEM - Unified Endpoint Management
Frank Noon, VXL's VP Worldwide Sales commented; "CipherLab's expertise as a leading, worldwide supplier of AIDC's makes them an ideal partner for our unified endpoint management business strategy. Being the first software solution to deliver full remote management support of all CipherLab devices means we are both perfectly placed to take advantage of the current and projected growth in demand for fully-featured device management solutions including remote management," he added.
This complete control of CipherLab's product portfolio also demonstrates how IT Support teams can now easily remotely manage and maintain, as well as support and trouble-shoot, devices in the field. For example, if a delivery truck driver's CipherLab mobile computer fails while out on the road, a support team can quickly connect and take control as if the device was actually in their hands, resolving the issue in a matter of minutes thereby reducing downtime and improving productivity.

VXL Software's Fusion UEM full remote management key features include:
Remote connection to a CipherLab device in seconds from the Fusion UEM console
Real-time view of device screen and full control with device keypad or computer's keyboard.
Quicker problem resolution with immediate visibility of the device and notification to users when their screen is visible so they can pause a remote session for enhanced privacy.
Vita Chang, Director, CipherLab Europe commented; "VXL's Fusion UEM with full remote management support is the perfect complement to our AIDC portfolio and provides a game-changing solution for IT support departments looking for an easy-to-use, productive and cost-effective remote support management software. The demand for remote device management is massive and Fusion UEM fits extremely well with our approach to partnering with software providers who offer genuine benefits to our customer base," she added.
What sets Fusion UEM apart is the fact that it's a true unified endpoint management solution with the ability to manage both mobile (smartphones, tablets, PDAs) and desktop PCs and laptops. Devices running Android, Windows 7 and 10 IoT Professional, Windows Embedded 7, 8 and 10 IoT, Windows POS, iOS and MacOS operating systems can be all be efficiently managed from a single dashboard console.
Extremely easy to install and use, Fusion UEM is also competitively priced against comparable products and features a perpetual license solution with no monthly subscriptions. Providing complete end-to-end device management, Fusion UEM also enables IT departments to easily provision devices, add updates and patches, monitor and analyse all network devices, manage access to content-management systems, enhance security and much more.
-ENDS-
About VXL Software
VXL Software is a global leader in the creation of software for digital signage, unified endpoint management and PC desktop repurposing. VXL Software's commitment to quality and competitiveness enables the company to provide software solutions which don't just reset the benchmark within that product category, they also deliver unprecedented value for money.
VXL's corporate headquarters, and software development team, are in Mumbai, India, with the Americas group headquarters based in Houston, Texas, and the European HQ in Manchester, UK. Dedicated sales and support offices are based in key strategic markets - including Germany, France, UAE and Singapore.
For more information, please contact: Ian Cope Tel: +44 (0) 161 775 4755 or visit: https://www.vxlsoftware.com/software/fusion-uem
About CipherLab
CipherLab is a global leader in the design, manufacture and marketing of Automatic Identification and Data Capture/ Collection products and systems. The company's mobile computers and scanners are integrated into the networks of some of the world's best known logistics, retail, distribution, government installations and healthcare companies, helping them run more efficiently and effectively onsite and on the road. Operating worldwide, CipherLab is headquartered in Taipei, Taiwan with offices in China, Germany, Netherlands and the USA, and is publicly traded on the Taiwan stock exchange (Taiwan OTC:6160).
For more information, please visit: https://www.cipherlab.com/