Frankfurt, GERMANY, October 11, 2018 – The Next Generation Mobile Networks (NGMN) Alliance - which drives and guides the development of all future mobile broadband technology with a focus on 5G – is bringing together the mobile industry to discuss the future of this emerging ecosystem to a global audience at its 7th Industry Conference & Exhibition 2018.
Taking place at the JW Marriott Parq in Vancouver, Canada from November 6 – 8, the conference, supported by TELUS, will gather some of the world's top operator and industry CTO's to gain a perspective on the future of mobile broadband. The conference also offers a unique networking platform and world premier demonstrations of 5G systems and solutions.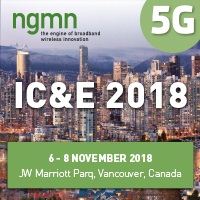 NGMN Industry Conference & Exhibition
Peter Meissner, CEO of NGMN, said: "We are excited to be coming to Canada to further uncover the future of 5G connectivity and what it means for the world's networks. We have a fantastic line-up of speakers and many opportunities to network with industry professionals. The conference will offer viewpoints, insights and an outlook from Telco, IT and Vertical Industry executives and thought-leaders.
This is a must-attend event for anyone interested in the future of 5G. The 2 days are set to be some of the most informative for the industry this year."
The event will begin on the evening of the 6th with a welcome reception hosted by TELUS. The next morning will offer an introductory pre-conference session on highly relevant and challenging topics led by NGMN's cooperation partners.
This will be followed by keynotes, including speeches on the future of 5G standards, value propositions, 5G architecture, field deployments and user experience.
Our opening speakers for the following sessions are:
5G Value Proposition: Eros Spadotto, EVP Technology Strategy, TELUS
5G Platform Delivery: Stephen Howe, CTO, Bell Canada
5G Applications for Vertical Industries: Andrea Calvi, SVP Technology Evolution & Innovation, TIM
Building Blocks for 5G Architecture: Mike Irizzary, EVP&CTO Engineering & Information Services, US Cellular
Key 5G Component Security: Ibrahim Gedeon, CTO, TELUS
A highlight at the end of the second day will be 5G Tests, Trials and Experiences from First Deployments presented by NGMN Board members.

To find out more about NGMN's Industry Conference and Exhibition 2018 in Vancouver, or to register to visit please visit: https://ice2018.ngmn.org/
For more information about NGMN or to find out how to become a member, please visit: https://www.ngmn.org/home.html
ENDS
About NGMN Alliance
The NGMN Alliance (https://ngmn.org/home.html) was founded by leading international network operators in 2006. Its objective is to ensure that the functionality and performance of next generation mobile network infrastructure, service platforms and devices will meet the requirements of operators and, ultimately, will satisfy end user demand and expectations.
The NGMN Alliance will drive and guide the development of all future mobile broadband technology enhancements with a focus on 5G. The targets of these activities are supported by the strong and well-established partnership of worldwide leading operators, vendors, universities, and successful co-operations with other industry organisations.
PR Contacts
NGMN Alliance (@ngmn_alliance)
Natacha Schubert
+ 49 69/907 4998-0
natacha.schubert@ngmn.org
supported by
Mike Shields
Proactive International PR
+44 (0) 1636 704 888
mike@proactive-pr.com