January 15th 2014 – Cambridge, UK - ViewRanger, the award-winning mapping and navigation app, is now available from the Amazon Appstore to download for Amazon Kindle Fire and other Android smart phones and tablets. ViewRanger helps outdoor enthusiasts to plan, navigate, and share their walking, cycling, skiing and riding outdoor adventures. Following its release, ViewRanger has leapt to number one ranking in its category within the Amazon Store in France, Italy, Spain, and the United Kingdom.
ViewRanger is free to download and provides unlimited access to a range of mapping, such as OpenStreetMap, OpenCycleMap, and Bing Ariel imagery. The maps can be downloaded and stored on your Kindle Fire, or other android device, for use later. So you don't need mobile connection to view, plan and follow routes.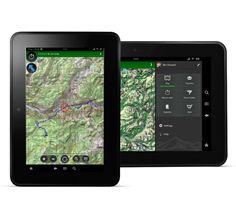 ViewRanger - the app for adventure - now on Kindle Fire
For activities where detailed knowledge of the area is important, you can also purchase high quality, topographic maps from national mapping agencies, such as Ordnance Survey, IGN France, BKG Germany, CNIG Spain, USGS USA, Statkart Norway, Lantmateriet Sweden and many more. Licensed mapping is available for 22 countries around the globe, including USA, Canada and New Zealand and most European countries, all of which can be purchased from within the app.
One of the unique features of ViewRanger is its extensive trail guide library which offers thousands of recommended routes from leading travel publishers, tourism organizations, and local experts from the ViewRanger community. The routes include detailed descriptions, photographs and advice on the difficulty, length and elevation which help you to select the best walk or cycle trail. ViewRanger also features active navigation which will help you avoid getting lost.
It is also possible to track your own trail to share with friends or recommend to other ViewRanger users. To make this easy, there is a free to use companion website MyViewranger.com which provides tools to plot routes, analyse tracks, view maps on PC & Mac and print route maps.
The ViewRanger app is free to download from Amazon Apps Store. Premium topographic maps can be purchased from within the app using your Amazon account.
The app is also available to download through Google Play and for Apple iPhone and iPad devices. Once purchased, maps can be shared between devices owned by the same user.
–ENDS–
Notes for Editors
Media contacts
Augmentra/ViewRanger: Rachel Holdsworth / Victoria Ellis, Holdsworth Associates PR consultancy, Tel: +44 (0)1954 202789, email: victoria@holdsworth-associates.co.uk, www.holdsworth-associates.co.uk
Links to ViewRanger app on Amazon Appstore:
http://www.amazon.co.uk/ViewRanger-Outdoors-GPS-Maps-Navigation/dp/B00HCFIEA4
http://www.amazon.com/ViewRanger-Outdoors-GPS-Maps-Navigation/dp/B00HCFIEA4
About ViewRanger (www.viewranger.com)
ViewRanger is the app for adventure – it is how active consumers worldwide discover, create, navigate and share their outdoor adventures on smartphones, tablets and online. ViewRanger is also trusted by search & rescue teams and other outdoor professionals.

ViewRanger is free to download for Apple iPhone, iPad, Android smartphones and tablets, Amazon Kindle Fire, Blackberry10 and Symbian devices and is fully functional with global mapping that can be stored offline and thousands of free trail guides are available. Additionally highly detailed topographic mapping sourced from national mapping agencies and premium publishers from most European countries, USA, Canada and New Zealand can be purchased in-app.

The global community of ViewRanger users store and share their adventures using the app and the web based tools at www.my.viewranger.com.
ViewRanger was named one of the Best apps of 2013 by Google Play and is a Top 10 Best Selling app in its category on the Apple app store & Google Play in over forty countries. The app is also #1 in its category on Amazon apps store and regularly see's top 10 placement in the Nokia Store.