Cambridge, UK 21st April 2011: Visitors and locals alike can now download detailed walking route guides for Scotland straight onto their mobile phones following a new collaboration between award-winning mobile phone app ViewRanger and top walkers' website Walkhighlands.
The addition of nearly 1,300 Walkhighlands routes to ViewRanger's downloadable trails database makes the App, one of the UK's most comprehensive mobile sources of expert guided walking trails and cycling rides with almost 10,000 routes nationally.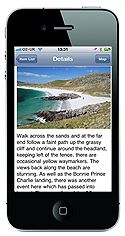 Route Details
Every expert guided route can be browsed and downloaded to a smartphone with just a few taps. The ViewRanger app can then be used to guide and navigate the user along the mapped trail. Embedded within each of the routes, the user can access a wealth of local expertise, for instance, many of the Walkhighlands routes even feature audio clips giving the correct pronunciation for place names.
"Our routes offer walks for all tastes from challenging ascents up the Munros to walks through Caledonian pinewoods or hikes exploring Scotland's spectacular coastline," said Walkhighlands co-founder Paul Webster. "ViewRanger is a superb and ground-breaking app, we're delighted to be able to offer Walkhighlands routes through ViewRanger."
Commenting on the launch ViewRanger CEO Craig Wareham said "Walkhighlands routes wonderfully enrich our content database and will be very popular with our customers. The fact our app lets customers purchase Ordnance Survey maps, which can be viewed on their phones even without a mobile signal is a key consideration for use in many parts of Scotland"
Android & Symbian smartphone owners can get ViewRanger on 15 day free trial or from just 59p on Apple devices over the holiday period. Between now and 2nd May 2011, all registered customers can even download a Walkhighlands route for free, as part of a Spring free routes promotion. Find out more from ViewRanger's website (www.viewranger.com) and follow the link to view the Walkhighlands routes.
ENDS
Notes to editors:
Walkhighlands routes are available to download on ViewRanger at £1.50 per route. The app works on Apple, Android & Symbian smartphones. The App (web maps version) is currently available on promotion for around 60p from App stores and ViewRanger's website (normal RRP £2.39). With Ordnance Survey mapping regions available to install from £7.99.

The free routes promotion runs over the period Sunday 17th April to Monday 2nd May. The free offer covers all standard routes (excl Hadrian's wall Video & Guides incl mapping) from ViewRanger for all registered customers (includes those using the 15 day free trial over the period). The first 4 paid routes from any publisher will be delivered at no charge. Subsequent routes purchase during the period will be charged as normal.

Safety in the Hills. The ViewRanger app is a wonderful aid to making navigation easier and more enjoyable, but a traditional map and compass should still be always carried. Smartphones may be damaged by water or sudden jolts - a waterproof/robust carry case is recommended. Using any smartphone constantly in GPS mode will reduce the battery time available, therefore it is recommended to carry a spare/secondary battery or a non-mains charging accessory.
About ViewRanger GPS
Augmentra Ltd is the Cambridge UK based Angel funded software development company behind ViewRanger, the award winning mobile app, which delivers Mapping, Navigation, GPS- enabled guides & route content and Location Sharing to anyone who wants to get more from their time in the Great Outdoors.
The App runs on a massive range of smartphones and devices that use the Apple iOS (iPhone/iPad), Android, or Symbian OS and works virtually anywhere in the world using web based mapping, which can be cached for off-line use. Additionally, it can upgraded to run premium topographic map data like Ordnance Survey maps in Great Britain, for a growing number of countries, including Belgium, Finland, France, Germany, Holland, Ireland, parts of Italy, Norway, New Zealand, Slovenia, Sweden, Switzerland & USA. A testament to the App's accuracy and reliability is the fact that it is today used by almost 50% of Search & Rescue teams in England & Wales.
ViewRanger is also a GPS-enabled content publishing platform that allows Guidebook & Route owners, like The AA, Walking World, Cumbria Tourism and Cordee to deliver their content directly to a user's smartphone.
www.viewranger.com
Press Contact: Clive Allen at Ascent Marketing Communications
Tel: 01539 739995
Email: clive@ascentmarketing.co.uk
About Walkhighlands
Based in the Cairngorms National Park, the multiple award-winning website Walkhighlands aims to encourage the enjoyment of walking and increase tourism in Scotland through provision and information and social networking facilities for walkers.
Walkhighlands is the busiest outdoors website in Scotland, with 8,000 visitors each day viewing around 3 million pages of information each month. The site has won the prestigious VisitScotland Thistle Award for Innovation, as well as being the overall winner at the inaugural HeraldScotland Digital Business Awards and a double winner at the last Highlands and Islands Tourism Awards.
http://www.walkhighlands.co.uk
Media contact: Helen Webster, 01479 873523