High Wycombe, UK, 16 October 2019 At Kiosk Summit 2019 (18 October, Business Design Centre, London), Star Micronics, a leading manufacturer of packaged and modular specialist kiosk printing solutions, will be exhibiting its unique and comprehensive range of industry-leading products designed for a variety of kiosk applications including fast food ordering, hotel check-in, cinema ticketing and betting.
With over thirty years' experience in the kiosk industry and an unrivalled reputation for reliability, Star has the technical expertise and flexibility to tailor solutions to meet the individual needs of customers. This wealth of experience pushes the boundaries in kiosk printing to bring the most advanced solutions available today.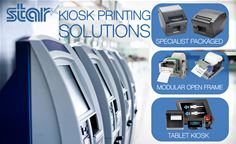 Star Micronics at Kiosk Summit 2019
With printing solutions simplifying kiosk design, Star is actively aiding new generation, compact tablet terminals with a wide range of modular open frame printers as well as packaged printing solutions offering connectivity at every level. Providing support for traditional PCs and tablet POS, Star has developed long-standing partnerships with a number of major kiosk manufacturers while supporting its iOS / Android / Windows tablet software partners with kiosk integrations.
As solutions adapt to provide printer mechanisms small enough to fit into the current trend of sleek, space-saving kiosks, whilst still maintaining a reasonable paper roll size, Star has been at the forefront of developments in this area. Its modular open frame printers, TUP500 and TUP900 series, offer a proven cost-effective, high performance solution while its wide range of highly compact Sanei open frame printers are ideal for limited space enclosures.
The Sanei lightweight open frame solutions feature a variety of print widths and print speeds up to 250mm/second with Android support. The new SK4-31 offers a low cost slimline printer that is ideal for hospitality applications including take away ordering, while the SK1-211 and SK1-311 benefit from extra bezel and presenter options as well as a higher print speed.
Alternatively, the packaged printer with a range of connectivity options can be the ideal solution for internet connected services. Star's robust packaged printers offer ease of installation, a variety of interface options and are WebPRNT™ and CloudPRNT™ compatible.
Providing a lower cost solution than modular open frame printers, compact packaged printers are easier to install and maintain especially with front-loading printers such as the cube shaped mC-Print3™. This printer benefits from 5 hardware and software interfaces including unique direct communication and charging for iPad via the standard Apple lightning cable, alongside a built-in hub featuring 2 USB host ports. Moreover, with remote functionality the mC-Print3 can be managed from any location.
For greater paper roll capacity, Star's specialist packaged printers TSP700II and wide format TSP800II can be vertically mounted and are able to accommodate a 100mm paper roll with 60% more paper than on a standard 80mm, labelling capability and heavier ticket stock for 58, 80 and 112mm wide media. Furthermore, these printers can also benefit from CloudPRNT technology and provide the ideal solution for use with Android and Windows tablets.
As Simon Martin, Director & General Manager, Star Micronics EMEA, states: "Star offers an extensive range of open frame and packaged kiosk printers as well as sophisticated drivers that support industry standards from all major desktop and tablet operating systems. Working in partnership with a number of kiosk manufacturers Star's solutions meet the demands of the most advanced kiosk designs and offer high performance printing that remains unrivalled today."
Background Information on Star Micronics
Founded in 1947, Star Micronics is one of the world's largest printer manufacturers and has facilities for worldwide production, marketing and support. Employing over 1900 staff and achieving turnover in excess of £250 million, Star Micronics has developed a POS printer portfolio that spans thermal and dot matrix printers and mechanisms, designed for printing barcodes, ticketing, receipts and labelling. Star's proven technology is also being utilised to install print mechanisms in multimedia kiosk environments. The Star Micronics' range is available internationally via a distribution channel comprising distributors and dealers.
-oOo-
For further information, please visit www.Star-EMEA.com or contact:
Claire Smith
PR Manager
Star Micronics EMEA
Tel: +44 (0)1494 471111
Email: Csmith@Star-EMEA.com