High Wycombe, UK, 19 September 2019 - At Paris Retail Week 2019 (24 – 26 September 2019, Paris Expo Porte de Versailles), international POS printer manufacturer Star Micronics will be demonstrating its latest innovative and versatile Cloud and tablet POS printing solutions with a range of software and payment partners on Stand KO55.
Star is widely acknowledged as the leading hardware innovator in the move from more expensive traditional POS terminals to Cloud connected tablet POS featuring lower cost hardware that can be mobile or fixed and easily upgradable as the business grows. Up to now making the transition to Cloud-based tablet POS has been expensive, particularly for small to medium-sized retailers.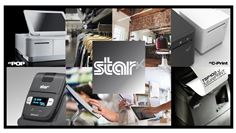 Star Micronics - Paris Retail Week 2019
Recognising this, Star has developed the mC-Print™ series featuring 58mm and 80mm print width models with the unique functionality of 5 hardware and software interfaces including innovative Cloud technologies able to control select USB connected peripherals from multiple wired or wireless devices.
Star's mC-Print2 and mC-Print3 seamlessly combine sophistication with high functionality, and aesthetically match the sleek, modern design of tomorrow's retail environment to provide the retailer with feature-rich, front-feed compact printers. With a print speed up to 250mm/second, the printers can feature all of the following interfaces in one model: Ethernet LAN; Bluetooth; traditional USB; lightning USB (data and charge USB for iOS) and CloudPRNT™ as well as Hub functionality for more than one peripheral; scanner, customer display, etc.
Offering Star CloudPRNT technology for remote PC-free printing of receipts and tickets directly from a web server to Star mC-Print2 or mC-Print3 printers located anywhere in the world, this low cost and versatile Cloud printing solution is ideal for applications across retail and hospitality including Click & Collect in-store orders, event ticketing and online food ordering, etc.
Demonstrating Star's keen focus on providing solutions that allow retailers to make a smooth transition from traditional to tablet POS, it is possible to purchase a Star TSP654II with a traditional interface in the knowledge that it is future-proofed for whatever Cloud strategy the retailer wants to adopt and provides an easy, affordable upgrade by simply replacing the traditional interface with the HI X interface. The interface can also be used with other Star printer models that offer 80/112mm label, ticket and receipt printing - TSP743II and TSP847II as well as SP700 matrix printer. Alternatively, the TSP654II HI X Connect receipt printer is ready for the Cloud with the interface built in.
This TSP654II CloudPRNT-POS solution can be used as a hub providing IP connectivity via wired Ethernet or WiFi with peripheral support, by means of 2 USB host ports with full status back. This allows retailers to benefit from tablet POS with complete USB peripheral control from a web-based application on any device with a browser. Star's SCD222 customer display, 1D / 2D (Symbol) barcode scanners and cash drawers are the preferred peripherals.
The latest addition to Star's renowned TSP100 futurePRNT™ series is the TSP143IIIU. This printer, as well as Star's mCP21LB, mCP31L and mCP31LB printers, has the unique ability to simultaneously communicate with and charge the iPad directly via the Apple supplied lightning cable for reliable USB communication. This removes the insecurity of wireless connection and seamlessly combines the flexibility and cost savings of tablet POS with the reliability of traditional POS.
Providing the first receipt, ticket and label POS printers on the market to be Apple AirPrint™ certified, Star has launched the TSP654II AirPrint and TSP847II AirPrint with 58mm, 80mm and 112mm print widths. Traditionally, AirPrint has been purely the domain of wider output inkjet and laser printers for business and personal use, but Apple has now confirmed its rightful place in the POS retail and hospitality sectors with its certification of the first AirPrint receipt and ticket printers from Star.
Star's TSP847II AirPrint is the latest addition to its unique multifunctional TSP800II series. Automatically printing A4 output on 112mm wide paper, labels or tickets simply by selecting the TSP800 option within the native OS print function, the TSP847II AirPrint is a unique Apple iPad A4 to virtual A6 printer. With up to 90% lower running costs when compared with a typical A4 laser printer, the TSP847II AirPrint offers an effective low cost, space saving alternative for use with iOS devices.
A large number of software partners have now integrated the cost-effective all-in-one tablet POS solution, mPOP™. A unique combined Bluetooth printer and cash drawer mobile point of purchase station mPOP is low cost and lightweight at just 10cm high and 30cm wide with a sleek design. With the POPPack option that includes a high quality black or white tablet stand (alternative colours are available if required) and metal plate, users can successfully create a stylish mPOS station. The POPPack design provides a flexible option with the extra security required within a busy retail environment, whilst retaining the mobile element. This provides the ability to securely store or transport the mPOS station at the end of trading.
"The retail landscape is rapidly evolving", states Simon Martin, Director & General Manager, Star Micronics EMEA. "With a fundamental understanding of the challenges faced by retailers, Star excels in its ability to consistently introduce industry firsts that clearly set new standards in POS printing technology. Star's range of versatile printing solutions will continue to offer unrivalled functionality and allow retailers of all sizes to seamlessly and cost-effectively make the transition from traditional to tablet POS."
About Star Micronics
Founded in 1947, Star Micronics is one of the world's largest printer manufacturers and has facilities for worldwide production, marketing and support. Employing over 1900 staff and achieving turnover in excess of £250 million, Star Micronics has developed a POS printer portfolio that spans thermal and dot matrix printers and mechanisms, designed for barcode, ticketing, receipts and labelling. Star's proven technology is also being utilised to install print mechanisms in multimedia kiosk environments. The Star Micronics' range is available internationally via a distribution channel comprising distributors and dealers.
For further information, please visit www.Star-EMEA.com or contact:
Claire Smith
PR Manager
Star Micronics EMEA
Tel: +44 (0)1494 471111
Email: Csmith@Star-EMEA.com