Vivid partners with MMA and boxing clothing brand PunchTown for new downloadable content
London, UK – 20th December 2013 – Independent Developer Vivid Games today announced the latest update to its hit title Real Boxing on iOS and Android. The new version introduces extended support for iOS7 controllers and Android gaming tablet Wikipad. Vivid's collaboration with MMA and boxing clothing brand PunchTown means that players can also now enjoy a "PunchTown Pack" of downloadable content such as highly stylised boots, gloves, shorts and tattoos to enhance their fighter's appearance and performance.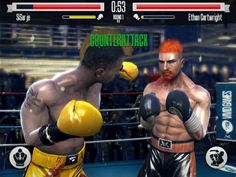 Real Boxing / PunchTown
Real Boxing's new compatibility with iOS 7 controllers and the Wikipad gaming tablet allows players to fight in multiple tournaments and real-world venues using analogue controls instead of touch screen. In addition, a new and improved multiplayer function that enables players to easily locate more opponents in a shorter space of time delivers a heightened gaming experience. To mark the launch in time for the holiday season, Vivid has also added snow effects and ring girls in santa costumes to the game for a limited period to give things a special festive flair.
Real Boxing features an immersive Career Mode in which players compete in multiple tournaments staged in real-world venues in their quest to become World Champion. To compete for the title, players must take on over 30 opponents, each with their own unique fighting style. Players can also improve their boxer's core skills through a series of mini games including skipping rope, heavy bag and mini bag training drills. Real Boxing now also includes a wager system that enables gamers to bet in-game currency on the outcome of their own fight and win more coins that can then be used to unlock new items and upgrades. Players are also able to use their virtual currency to buy lottery tickets that give them a chance of winning a temporary performance-enhancing boost in matches.
Update Highlights
New DLC Punchtown Pack. Players can purchase unique and edgy items to boost their boxer's performance.
Compatibility with iOS7 game controllers
Optimized for Android gaming tablet Wikipad
Enhanced multiplayer - find more opponents in seconds
Special festive theme for the Christmas period
Real Boxing is available on:
Apple App Store https://itunes.apple.com/us/app/real-boxing/id534473264 and Google Play https://play.google.com/store/apps/details?id=com.vividgames.realboxing&hl=en_GB
at a promotional price of $0.99 / £0.99/ €0.99 and will be compatible with iOS7 controllers and the Wikipad tablet.
The Punchtown pack costs $3.99 / £2.49 pounds / €3.99.
Watch the trailer video online: youtu.be/rpPBukyUlnw
or check the behind the scenes content from www.realboxinggame.com
Follow the game on Facebook: www.facebook.com/realboxing
***ENDS***
Note to editors:
Media assets including screenshots are available from www.realboxinggame.com
or can be downloaded at: vividgames.com/DIMOSO/Real_Boxing/Real_Boxing_Press_Kit_v2.zip
Download the trailer video from: www.dropbox.com/s/0kij4j52mvurs97/PunchTown-Trailer-Universal.mp4
About Vivid Games
Vivid Games is one of Europe's premier emerging independent development studios, with a passion for accessible and engaging gaming at the heart of its philosophy. Founded in 2006, Vivid Games is making a valuable contribution to the worldwide games development community. Vivid Games has become renowned for its specialization in cross-platform development, working both with licensed brands and exciting new IPs of its own. www.vividgames.com
About PunchTown
PunchTown is a leading, UK owned, high-quality brand name offering stylish and innovative products developed specifically for mixed martial arts (MMA), combat sports and martial arts competition. PunchTown's products are designed with an innovative, unique and edgy style, incorporating features such as TAT2 leather technology and Boa-Tite closures. Standing firm in the belief of its motto 'Take it Too Far', PunchTown continues in the pursuit of breaking the mould of convention, no matter who stands in their way. www.punchtown.com
Media Contact
For more information please contact:
Valentina Ciolino dimoso - valentina@dimoso.com +44 (0) 207 033 2660