When absolute colour accuracy matters, the DH768Z-UST delivers
Hoofddorp, the Netherlands, May 4, 2018 – Vivitek, a leading brand of visual display products, has met the demand for true-to-life colour perfection with the launch of the DH768Z-UST. This model is an addition to Vivitek's existing D760Z Series (the DH765Z-UST and the DW763Z-UST), giving users even more choice when it comes to powerful laser illumination Ultra Short Throw projectors.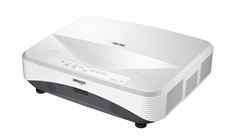 Vivitek DH768Z-UST
The DH768Z-UST is ideally suited to environments that need to replicate exact colours or shades – such as a museum or gallery that wants to project an image of a painting or another work of art in its true colours. Thanks to its shape, size and UST technology, the DH768Z-UST will be welcomed by customers who may not have enough space for a conventional projector or in venues where mounting to the ceiling is complicated. Its ultra-short throw projector design features an embedded reflective mirror. This allows for a projection size of an 80" to 150" diagonal image from a mere 40cm away from the screen. The positioning of the DH768Z-UST so extremely close to the projection surface also eliminates any shadow from presenters or visitors standing close to the screen.
Its visual excellence is assured thanks to a FullHD 1080p and WXGA resolution. The DH768Z-UST boasts an advanced laser phosphor light engine for superior brightness and colour uniformity matched with a high 3,100 ANSI lumens of brightness and a crisp 12,000:1 contrast ratio.
Like all Vivitek solutions, the DH768Z-UST has been engineered for durability and longevity, as it utilises a sealed optical engine and an enhanced ventilation system. Designed to minimise the impact of dust, DH768Z-UST users are assured of years of trouble-free and reliable performance. Furthermore, the projector is maintenance free, thanks to its lampless laser light source design, which delivers up to 20,000 hours of operational time.
In terms of set up, the manual zoom and focus provide both easy adjustment and positioning flexibility. The DH768Z-UST offers a wide array of connectivity options, including two HDMI options, component, composite video, s-video and VGA-in/out, while the embedded 10W audio speaker and multiple audio-in and audio-out ports provide plenty of options for external device connection.
The model also offers full 3D functionality support and is network ready for integration, monitoring and management via RJ45. Meanwhile, anti-theft security features include a Kensington® security slot and PIN lock keypad to ensure that these desirable solutions remain in place.
Commenting on the introduction of the Vivitek DH768Z-UST, Holger Graeff, General Manager Vivitek EMEA, said: "Vivitek invests heavily in R&D to bring class leading models to market. With the DH768Z-UST, we have reached a level of colour accuracy that sets a new standard to be appreciated by those who demand colour and image perfection."
Pricing and Availability
The price of DH768Z-UST is £2,210 ex VAT with a three year warranty and it is available immediately.
About Vivitek
Vivitek, a brand of Delta, offers an extensive line of visual display and presentation products. Vivitek's line of digital projection and display products incorporates the latest innovations and technologies to meet the market demands for education, business, home theater and large venue.
For more information about Vivitek, please visit www.vivitekcorp.com or www.vivitek.eu
About Delta
Delta, founded in 1971, is a global leader in power and thermal management solutions and a major player in several product segments such as industrial automation, displays, and networking. Its mission statement, "To provide innovative, clean and energy-efficient solutions for a better tomorrow," focuses on addressing key environmental issues such as global climate change. As an energy-saving solutions provider with core competencies in power electronics and innovative research and development, Delta's business domains include Power Electronics, Automation, and Infrastructure. Delta has 163 sales offices, 64 R&D centers and 39 manufacturing facilities worldwide.
Throughout its history, Delta has received many global awards and recognition for its business achievements, innovative technologies and dedication to corporate social responsibility. Since 2011, Delta has been selected as a member of the Dow Jones Sustainability™ World Index (DJSI World) for 7 consecutive years. In 2017, Delta was selected by CDP (formerly the Carbon Disclosure Project) for its Climate Change Leadership Level for the 2nd consecutive year.
For detailed information about Delta, please visit: www.deltaww.com and www.delta-emea.com
# # #
Contact:
Name Jolanda Medendorp
Agency Vivitek
Email jolanda.medendorp@vivitek.eu
Tel +31 6 31698229
*All brands, marks, or product names mentioned herein are trademarks of their respective companies and are referred only for explanation or descriptive purpose and to the owners' benefit, without intention of use or infringement.