Hoofddorp, the Netherlands, April 10, 2018 – The choice for customers looking to invest in a high performance, high quality projector for meeting rooms and lecture halls, has now got broader as Vivitek introduces the DU6693Z laser projector. Joining its expanding family of large projectors, it features the qualities that have made the company's projectors a success with customers who demand the best. The DU6693Z responds to their needs by bringing advanced technology to even more customers, thanks to its attractive price point.
Ideally suited to 24/7 operation, the DU6693Z offers a high 7,000 lumen brightness and WUXGA resolution. This makes it ideal for large screens in meeting or lecture rooms, where the screen has to be big enough for the audience at the back to be able to view the content being displayed. For added setup and viewing flexibility, the DU6693Z benefits from a motorised lens and horizontal and vertical Shift, a 10-lens position memory for lens shift, as well as eight optional lenses that range from 0.38:1 to 8.26:1 throw ratio. It has also been engineered to support 360 degree/portrait projection mode. On a further practical level, the DU6693Z also brings the benefits of HDBaseT digital transmission and network control to installers and users alike.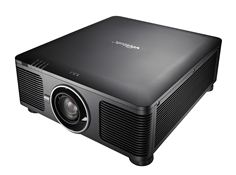 Vivitek DU6693Z laser projector
At only 32dB at normal mode, its low fan noise makes DU6693Z one of the quietest 7,000ANSI lumen projectors*, thanks to it employing advanced thermal management technology to improve the projector's cooling efficiency and effectiveness. Its optimised air flow and better cooling means that lower fan speeds are required thanks to the heat or hot air being driven out of the projector in a more efficient way. A further benefit of the DU6693Z's advanced cooling means that it is better protected from excessive heat, and can thus offer robust quality and better performance in the long term.
Vivitek's heritage in durability and reliability also shows through in the DU6693Z's fully sealed optical engine. The benefit to end users is it is air-tight, so that tiny dust particles cannot get into the optical engine part, and thus not able to interfere with the DMD chip, which makes the projector much more robust. A further advantage is the improved light efficiency, as the light path to the DMD is not affected by dust particles, which ensures a higher brightness level.
Commenting on the introduction of the DU6693Z, Holger Graeff, General Manager, Vivitek EMEA, said: "One of the benefits of Vivitek's many years in producing large venue projectors, is that we can apply this knowledge and expertise to bring advanced yet affordable projector technology to even more people. That is why the DU6693Z packs so much technology, good design and sound engineering principles into such a compact form. That it does so at such an attractive price, is set to make the DU6693Z popular with the business and education sector alike."
Note to editors:
*As of Dec.31st 2017.
Pricing and availability
The DU6693Z is available immediately at £7,100 excluding VAT.
About Vivitek
Vivitek, a brand of Delta, offers an extensive line of visual display and presentation products. Vivitek's line of digital projection and display products incorporates the latest innovations and technologies to meet the market demands for education, business, home theater and large venue.
For more information about Vivitek, please visit www.vivitekcorp.com or www.vivitek.eu
About Delta
Delta, founded in 1971, is a global leader in power and thermal management solutions and a major player in several product segments such as industrial automation, displays, and networking. Its mission statement, "To provide innovative, clean and energy-efficient solutions for a better tomorrow," focuses on addressing key environmental issues such as global climate change. As an energy-saving solutions provider with core competencies in power electronics and innovative research and development, Delta's business domains include Power Electronics, Automation, and Infrastructure. Delta has 163 sales offices, 64 R&D centers and 39 manufacturing facilities worldwide.
Throughout its history, Delta has received many global awards and recognition for its business achievements, innovative technologies and dedication to corporate social responsibility. Since 2011, Delta has been selected as a member of the Dow Jones Sustainability™ World Index (DJSI World) for 7 consecutive years. In 2017, Delta was selected by CDP (formerly the Carbon Disclosure Project) for its Climate Change Leadership Level for the 2nd consecutive year.
For detailed information about Delta, please visit: www.deltaww.com and www.delta-emea.com
# # #
Vivitek Press Contact:
Name Jolanda Medendorp
Agency Vivitek
Email jolanda.medendorp@vivitek.eu
Tel +31 6 31698229