Over 90% of the national population now has access to Vodafone 4G
Vodafone Ireland today confirmed the completion of its national network upgrade with the conclusion of its programme in Cavan and Longford and the North West region[1]. This now brings 4G coverage to over 90% of the population in every county in Ireland as well as improved voice and data experiences.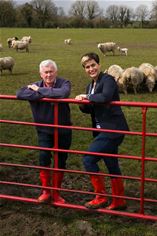 Future is looking rosy for ewe
Customers in 4G areas throughout Ireland can now experience crystal clear calls with HD voice, in addition to an improvement of over 40% in their ability to make calls and over 80% in their ability to retain a call connection. Now customers are experiencing the benefits of data everywhere they have voice, allowing them to work, stay in touch or be entertained wherever they go. 4G speeds are making it an even better experience whether Snapchatting, Skyping their loved ones abroad, watching videos without buffering or instant file and photo upload.
Lutfullah Kitapci, Consumer Director, Vodafone Ireland commented at the launch, "Our network upgrade programme has been a significant undertaking from Vodafone Ireland; investing over E550 million over three years, this is one of the most ambitious mobile network infrastructure projects that we have undertaken. This project included a complete modernisation of the entire network portfolio - brand new 3G and 4G networks and refreshing the existing 2G network across the country. This completion of this project in the wider North West region means that we can now provide 4G services to customers in every county in Ireland".
"Until now, where you lived determined your ability to access high quality voice and data services. Now our customers can experience crystal clear calls with HD voice and over 90% 4G population coverage means we can now provide 4G coverage to over 90% of our customers in every county in Ireland".
Mayo farmer John Lynskey, National Sheep Chairman, Irish Farmers' Association said, "A simple thing like a robust smartphone with good battery life and 4G can make a real and tangible difference to everyday farm management – from changing the way we do our business to critical health and safety matters.''
4G is available free of charge to Vodafone Pay as you go Data Extra and Extra[2] customers and across all of our worry free Red and Red Extra bill pay price plans. To celebrate superfast 4G speeds now available in Cavan, Donegal, Galway, Leitrim, Longford, Mayo, Sligo, Roscommon Vodafone is also offering customers in these counties €50 off 4G enabled Samsung S6, HTC A9 and Sony Z5 compact[3] billpay handset and €20 off 4G enabled PAYG handsets including the Vodafone Smart Speed, Vodafone Smart Prime and Vodafone Smart Ultra[4]. The offer also includes €20 off the R216 4G mobile broadband device on Pay as you go[5]. This promotion[6] ends 11th May, 2016.
For further information on Vodafone superfast 4G please see www.vodafone.ie/network/4g.
ENDS
Editors Notes:
Final counties of National Network upgrade include Cavan, Donegal, Galway, Leitrim, Longford, Mayo, Sligo, Roscommon.
Vodafone Pay as you go Data Extra and Extra plans include calls, text and 5GB of data
4G Billpay handsets: €50 off the Samsung S6 (now €149.99 on Essentials, €49.99 on Essentials Extra and FREE on Red), HTC A9 (now €99.99 on Essentials and 49.99 on Essentials Extra) and Sony Z5 compact (now FREE on Essentials)
4G PAYG handsets: €20 off the Vodafone Smart Speed (now €49.99), Vodafone Smart Prime (now €69.99) and Vodafone Smart Ultra (now €159.99)
4G MBB: €20 off the R216 (now €59.99 on PAYG)
Offers available in Vodafone stores in Cavan, Donegal, Galway, Leitrim, Longford, Mayo, Sligo, Roscommon – https://www.vodafone.ie/store-opening-hours/, subject to availability, terms and conditions apply
Further information:
Clodagh O'Hagan, Vodafone Ireland, 087 9084055
Orla Molloy/ Jess Corcoran Weber Shandwick, 01 679 8600 / 087 7705108/ 087 218 2936
About Vodafone
Vodafone is one of the world's largest telecommunications companies and provides a range of services including voice, messaging, data and fixed communications. Vodafone has mobile operations in 26 countries, partners with mobile networks in 57 more, and fixed broadband operations in 17 markets. As of 30 September 2015, Vodafone had 454 million mobile customers and 12.5 million fixed broadband customers. For more information, please visit: www.vodafone.com