The first app to socialise mobile phone numbers – innovation that the operators failed to deliver
London, 8th February, 2016: Vyke (www.vyke.com) today announced that it will be revolutionising the mobile voice market through its new mobile VoIP apps, which will allow users to use mobile voice with the same flexibility that we all take for granted with email and social networking. Thanks to Vyke, mobile voice can become a new social app.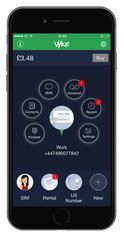 Homescreen
The new Vyke platform – now available for iOS and Android users – will allow users to create multiple personas for voice calls and SMS. Using Vyke's mobile VoIP app users can add up to four additional mobile phone numbers to use on their existing handset, coupled with rich free peer-to-peer chat and low cost calling features.
The multiple numbers will allow all mobile users to create and present different personas – for example work and personal – with a different mobile number for each – without having to have multiple devices. Behaviour that is already common on email or social platforms will now be possible on mobile voice too.
"We are delivering the innovation that the mobile voice sector is crying out for and that the mobile operators have so far failed to provide," said Mark Egginton, CEO of Vyke. "We know that mobile users have multiple personas, but until now they've only been able to have one phone number per device. Using Vyke they can now separate the different parts of their lives with different numbers, giving back both control over who calls them and when, whilst protecting the main mobile number identity."
The Vyke app is free to download and users get their first number absolutely free. Additional numbers (users can have a total of four Vyke numbers) can then be added for $/£0.99 per month, or less with advance commitment. It's easy to set up and users can even transfer an existing mobile number onto Vyke – removing the need for an additional handset.
Once downloaded, the Vyke app offers users in-bundle international mobile calls and texts with mobile number ranges from UK, USA, Canada, Poland and Netherlands immediately at launch, with more countries to follow soon.
"We believe that our new VoIP app will revolutionise voice calling in the same way that WhatsApp re-invented messaging. Our belief in this has seen us commit to a 12-month development cycle for the app and so we're excited to let users start to download it," continued Egginton.
Vyke is available from the app stores for download now:
-----ends------
About Vyke
Vyke is a UK-based, mobile VoiP provider with over ten years experience in the field. Vyke provides consumer communication services. B2B communication services are provided under the VykeBusiness brand. Vyke also provides 3rd Party call and SMS termination. Vyke has developed a SDK/API's and fully managed end-to-end white label of the new product to allow other service providers to create their own services using Vyke's infrastructure.
For more information please visit www.vyke.com
Press contact:
Patrick Smith
Joshua PR for Vyke
T: 07734 600553
E: Patrick.smith@joshuapr.com