WRN Broadcast is providing essential fibre connectivity to support Voxafrica, a world leading TV broadcaster of Pan African news and general entertainment. WRN Broadcast's fully redundant fibre connectivity enables Voxafrica's feed to reach its distribution point for onward transmission to DSTV and Canal Sat in Africa, as well as a number of IPTV platforms in France.
"Reliability of service is crucial for our brand and we are pleased to be working with WRN Broadcast on this fundamental element of our broadcast chain. We also look forward to exploring how their international network can support our expansion to new markets and platforms around the world."
Brice Beauvillain, Technical Director, Voxafrica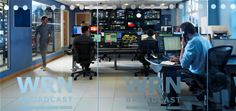 MCR
"We believe in building long-lasting partnerships with all our customers and welcome this three year contract to support Voxafrica's provision of world class content to Africa and Europe. We wish Voxafrica every ongoing success."
Tom Eyton-Jones, Business Development Manager, WRN Broadcast
- End –
About WRN Broadcast:
WRN Broadcast provides innovative solutions to deliver your television and radio content to any platform or device anywhere around the world. We work in partnership with you to help achieve your goals and maximise your potential within today's fast moving multimedia marketplace. Because you need a professional service that is both flexible and responsive, our experts, technology and networks are specifically designed to deliver broadcast solutions that place you and your content at the heart of everything we do.