For the fourth year, Walkbase partners with the exhibition to optimise the event experience. Footfall and conversion analytics based on almost 25,000 observed smart devices shows a moderate increase in the number of visitors compared to Slush 2014.
Helsinki – December 1 2015 – Walkbase, the provider of in-store analytics for airports and retail stores, today announced that it had analysed 46,663 visits by 24,715 unique smart devices at the annual start-up and technology conference, Slush. Walkbase provides the event organisers and exhibitors with valuable insights, including what the most popular speakers and booths were, where visitors travelled and dwelled. For improving the event experience year-over-year, one of the main issues is to get reliable data for the planning of capacity for exhibition space, presentation stages, and staffing.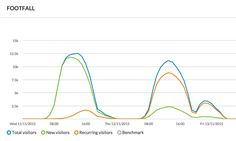 Slush footfall
By analysing the event visitor pattern with its indoor analytics solution, Walkbase revealed that 54% of the observed devices attended on both days, and the most devices were seen between 2-3 pm on the 1st day with 13,018 smart devices detected simultaneously at the venue. The total duration an individual visitor was measured to spend at the event during both days was measured to be 7 hours on the average. Hundreds of presentations were held at the four main stages. Among the most popular speakers were Niklas Östberg, Co-founder of Delivery Hero, Markku Mäkeläinen of Facebook, and Jyri Engeström of True Ventures.
"Slush has been a great partner over the past four years", says Tuomas Wuoti, CEO of Walkbase. "Our friends at Slush have realised early on that large-scale events like this are really hard to optimise and improve year-over-year if you don't measure them properly."
Wuoti points out how the Walkbase solution helps to improve event experience for both delegates and exhibitors: "Our analytics solution is able to count anonymous visitor statistics based on everyone who has enabled Wi-Fi on their smart device – no apps or working network connections needed, and the data is available real-time. By understanding where visitors are travelling at the event, the organisers can gain new insights that will help them improve the experience for visitors next year."
"Every time you organise an event there's an expectation to make it even better and more successful than the year before. We're always pushing the limits to give the best possible experience for delegates, exhibitors and speakers alike," says Riku Mäkelä, CEO of Slush. "Walkbase's analytics technology allows us to understand all of our visitors even better and to evolve the event in a way that draws them back every year."
The Slush event was held on 11th and 12th November at Helsinki Exhibition and Convention Centre, bringing together start-ups, international investors, executives and media.
About Walkbase
Walkbase is the leading in-store analytics and marketing solution for retailers, which is helping the high-street "dinosaur" bite back. Just like web analytics platforms have revolutionised the online shopping experience, Walkbase provides the same level of personalisation to brick-and-mortar stores through smartphone engagement.
Based on indoor location technology, the platform provides real-time analytics on customer behaviour so the same level of personalisation can apply in brick-and-mortar as it does online. It analyses in-store customer patterns, measures and helps optimise the impact of marketing on physical stores, engages customers with personalised in-store marketing, and links the online and offline customer journeys together.
The cloud-based Walkbase platform combines Wi-Fi, Bluetooth and people counting technologies, using both its own and existing store hardware. Founded in 2010, the company is headquartered in Finland, with offices in Helsinki (FIN), Turku (FIN), London (UK) and Bern (Switzerland).
About Slush
Slush is a two-day technology and startup event that draws together a crowd of 15.000 technology entrepreneurs, venture capital investors, business influencers and journalists to Helsinki, Finland. This year, the event took place on November 11th and 12th.
Slush aims to improve the profile of the Nordic countries as entrepreneurial technology hubs, to better attract talent and venture capital from around the globe. The event is unique, because it is organised by a non-profit community.