Searchmetrics Releases its First Study of Google.com Mobile Ranking Factors
San Mateo – October 01, 2015 - New research confirms that online marketers and website owners need to follow a separate strategy to help their pages rank higher in mobile phone searches on Google. It is essential to pay particular attention to the specific user experience and technical requirements for mobile visitors, while ensuring the underlying content on pages continues to be relevant and comprehensive.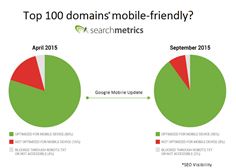 Are top websites now mobile friendly in Google searches?
The findings come from the Searchmetrics Mobile Ranking Factors US 2015 study, an analysis of the top 30 mobile phone search results for 10,000 relevant keywords on Google.com. Building on Searchmetrics' annual ranking factors study for desktop search, this is the company's first comprehensive study of ranking factors for U.S. mobile search results. It provides insights and benchmarks about mobile search results for marketers, webmasters and SEO professionals, particularly in the wake of the Google mobile-friendly update which downgraded the mobile search rankings of pages not considered user friendly for mobile phones.
"More Google searches now take place on mobile devices than on computers in 10 countries including the US[1] and with its mobile friendly update, Google has made it clear that search results presented to mobile phone users should provide a good experience," said Marcus Tober, CTO and founder of Searchmetrics. "Our first detailed study of mobile ranking factors offers insights into what is commonly found in high ranking Google search results on mobile phones and how this differs from desktop results."
Three important areas covered by the research are:
1) User experience – adjust font size and use fewer menus, buttons and images
The smaller screen size and touch-based navigation on mobile phones means marketers need to pay specific attention to the mobile user experience to help their pages rank higher. This is why one in five pages (22%) rank in the top 30 mobile search results use responsive design that automatically adjusts the format to suit a mobile, tablet or desktop. Many also use dedicated mobile sites.
In high ranking mobile search results, the average font size above the fold (visible area without scrolling) is significantly larger than on high ranking desktop results. Yet when you scroll down, the fonts on mobile phone pages are found to be smaller than on desktop pages. The above the fold text has to be bigger because it often includes clickable navigation links that let visitors click through to different parts of the site.
High ranking mobile pages generally have fewer interactive elements such as menus and buttons as well as images. 72% of mobile pages in the top 30 search results contain at least one unordered list (e.g. bullet points) to help structure information (around a quarter more than in desktop search results). However, the lists on mobile pages are usually much shorter, with fewer individual points.
2) Technical – minimize file size & load time and avoid Flash
The average mobile page file size was found to be around 25% smaller, allowing faster load times. Only 5% of mobile pages make use of flash design (mostly used for animation and video), which is not widely supported by mobile devices, compared with 14% of desktop pages.
3) Content - should be relevant, holistic and high quality
Holistic and relevant content remains one of the most important factors for high Google rankings in both desktop and mobile searches according to the analysis. It is paramount that both mobile and desktop pages cover topics comprehensively. For example analysis of the words in high ranking pages in both desktop and mobile searches indicates that a high percentage (above 70%) contain important "proof terms" strongly related to the search topic, while around half also include slightly more distant "relevant terms".
The study found variations between mobile and desktop content in some areas. High ranking content on mobile pages tends to be shorter on average (867 words) than on desktop (1285 words). It also includes significantly fewer internal links to related content on the same site (probably because Google advises against placing links too close to each other on mobile pages).
To read a more complete analysis, download The Searchmetrics Mobile Ranking Factors US 2015 study from: http://www.searchmetrics.com/knowledge-base/mobile-ranking-factors/
[1] adwords.blogspot.com/2015/05/building-for-next-moment.html
About the study
Searchmetrics' analysis is based on an analysis of the Google.com mobile phone search results for 10,000 keywords. The keyword set is identical to that used for the desktop ranking factors study, to enable a meaningful comparison. The data for the mobile results was pulled after the Google mobile-friendly update. Where logical, mobile comparisons with the previous year have been integrated with desktop results. In certain cases, Wikipedia has been excluded from results to more accurately reflect current trends and avoid data skew. Find more info here: What is a ranking factor?
About Searchmetrics
Changing search technology has forced SEO platform providers to up their games. These changes have created an entirely new search paradigm − search and content optimization. And since search engines have put a fence around a lot of their data, SEO platforms need to bring their own rich data to the party − and powerful tools to analyze it.
There's only one search platform that owns its data: Searchmetrics, the world's #1 SEO and content performance platform. We don't rely on data from third parties. Our historical database spans seven years and contains over 250 billion pieces of information, such as keyword rankings, search terms, social links and backlinks. It includes global, mobile and local data covering organic and paid search, as well as social media. We have the largest global reach of any SEO platform, crawling the Web every day in more than 134 countries.
Searchmetrics monitors and reveals the full business available to you online. We provide our customers with competitive advantage and help them identify new business opportunities by exposing the content consumers are engaging with on industry and competitors' sites. Our Visibility Score − trusted by reputable media sources such as The New York Times, Bloomberg, and The Guardian − reliably indicates your online presence.
We provide the insights our customers need to deliver results. Searchmetrics guides SEOs and content marketers with suggestions for creating content that improves relevance and boosts conversions. It shows the connection between social media links and overall engagement. And its analytics make clear which content performs the best and how an organization's content performs against its competitors.
With Marcus Tober, one of the top 10 SEO minds in the world, leading Searchmetrics' product development, we have over 100,000 users worldwide, many of whom are respected brands such as T-Mobile, eBay, TripAdvisor, Siemens and Symantec. They depend on Searchmetrics and our 10 years of product innovation to maximize their online performance.
We are the future of search. Today.
Media Contact
Uday Radia
CloudNine PR Agency
uradia@cloudninepr.com
+44 (0)7940 584161