Westfield is excited to launch four clickable fashion music videos produced and directed by photographer and film-maker Rankin, starring models Tali Lennox and Portia Freeman.
Going live on 21st March, the music videos showcase a selection of seasonal looks to create key 2013 fashion trends as seen in Westfield's spring/summer 'We Are Fashion' campaign. Featuring clever Hotspotting technology overlaying each film set to a separate backdrop of four specific trends, viewers can watch the story unfold whilst finding out about the brands, product and price details on show.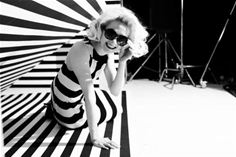 Monochrome video shot
The films' unique narratives are set to re-mixed versions of a song written for the series of videos "I Like the Way"; 'Monochrome' is set to a Brit-rock/pop soundtrack, 'Brights' has its own unique Electro sound, 'Metallic & Pastels' is presented Dub Step style, whilst 'Prints & Floral' is set to a summery folk tempo. From Top Shop, to Hugo Boss, each outfit modelled and seen in the films is available from retailers at Westfield London or Westfield Stratford City.
Rankin, comments: "When Westfield asked me to collaborate on this project to create four online viral videos, I immediately thought it would be interesting to bring the concept to life through music. It was a natural fit to show fashion through a music lens.
"We created one music track but in four different genres and with four different models, each representing the four new season trends. It was important that these music videos had authenticity; so we cast the models through singing auditions and actually recorded the tracks with the four stars.
"I love the democracy of the internet. I love that you can put out creative work that spans genres - art with music with fashion with film… and so on. It's a whole opportunity that has opened up to present fashion in a different context."
Myf Ryan, General Manager Marketing, Westfield comments: "Westfield is very excited to collaborate with a true creative pioneer such as Rankin. Our centres have become pioneering fashion destinations for the capital and we are always looking to push boundaries and evolve the ways in which we showcase and present fashion to our customers. Having Rankin's stamp on our spring/summer showcase is an exceptional project for us."
Synonymous with compelling portraiture and distinct, moving-image shots, Rankin has an extensive portfolio that includes many global brand collaborations. This joint venture provides Westfield with the platform to solidify their authority within the fashion and style arenas.
Watch now at http://uk.westfield.com/uk/fashion
ENDS
NOTES TO EDITORS:
Films go live on 21st March 2013 at http://uk.westfield.com/uk/fashion
Each film will be fitted with Hotspotting technology allowing viewers to click on any featured item to find out all product details including what retailer it is from and how much it costs and a range of offers.
Film details
Monochrome starring Portia Freeman
Prints & Florals starring Natalia Khutkubia
Metallic & Pastels starring Frida Munting
Brights starring Tali Lennox
About Westfield
The Westfield Group has interests in and operates one of the world's largest shopping centre portfolios. The global portfolio has 105 high quality regional shopping centres in Australia, New Zealand, the United States, the United Kingdom and Brazil valued at A$64.4 billion, with approximately 22,842 retailers in 9.7 million square metres of retail space.
For a full list of all retailers available at either London centre please visit Westfield.com/London and Westfield.com/stratfordcity
Westfield London
www.facebook.com/westfieldlondon
www.twitter.com/westfieldlondon
www.youtube.com/westfieldlondontv
Westfield Stratford City
www.facebook.com/westfieldstratfordcity
www.youtube.com/westfieldstratford
www.twitter.com/westfieldstrat
For further information, please contact Propellernet:
Megan Hart, Megan@propellernet.co.uk, 01273 760976
Isa Lavahun, Isa@propellernet.co.uk, 01273 760956