New Allot solution provides the functionality recently demanded by the Coalition to protect children and households from online pornography.
Woking, Surrey: 5th November, 2013 – Wick Hill is now shipping the third solution in Allot's suite of network-based security products, Allot WebSafe Personal.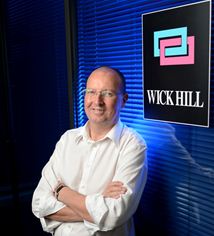 Ian Kilpatrick, chairman Wick Hill Group
Fully integrated with Allot Service Gateway and based on its market-leading DPI technology, Allot WebSafe Personal enables mobile operators to quickly and cost-effectively deploy value-added, opt-in services to customers that generate revenues while increasing customer satisfaction and protection. Allot WebSafe Personal has already been deployed by leading mobile operators in multiple regions across the globe.
Allot WebSafe Personal offers two flexible service bundles, which can be deployed together or individually. WebSafe Personal Parental Control allows parents to filter and monitor the websites and content their children view, as well as the amount of time they spend online. WebSafe Personal Anti-Malware prevents incoming viruses, worms, Trojans, bots and other forms of malware from infecting their smartphones, tablets and other handheld devices. WebSafe Personal Anti-Malware provides network-based protection against attacks and 24/7 signature updates, while requiring no action to be performed by subscribers.
With the proliferation of Internet-connected smartphones and tablets, online activity has increased dramatically, especially among teens and children. Armed with Allot WebSafe Personal, mobile and fixed network operators can provide parents with a simple solution for protecting their children's online activity. Allot WebSafe Personal utilises both automated web filtering and human analysis to identify, classify and control access to websites, advertisements and content that parents view as harmful or inappropriate.
Ian Kilpatrick, chairman of Wick Hill Group, commented: "This solution not only provides the functionality recently demanded by the coalition (http://www.bbc.co.uk/news/uk-23401076) to protect children and households from online porn, but also allows providers to deliver similar online protection for small businesses. This is an area of increasing concern and Allot's solution gets around the concerns of cost and functionality expressed by many service providers, which have hampered progress in the past. We have already seen significant interest expressed in this through our reseller channel."
Allot WebSafe Personal is a licensed software application that is fully integrated with Allot Service Gateway and Allot NetEnforcer platforms and can be hosted either on a blade in the Allot Service Gateway or hosted externally. Allot WebSafe Personal is NFV-ready and offers operators a pay-as-you-grow concept with the addition of software licenses. Allot WebSafe Personal joins two other security-based solutions in the Allot portfolio. The Allot Service Protector provides network-level protection, and Allot WebSafe provides carrier-class URL filtering designed to block access to blacklisted content at the network level. For more information on Allot WebSafe Personal, please visit http://www.wickhill.com/products/vendors/product/834/Allot-WebSafe-Personal-
About Wick Hill
Established in 1976, value added distributor Wick Hill specialises in secure IP infrastructure solutions and convergence. The company sources and delivers best-of-breed, easy-to-use solutions through its channel partners, with a portfolio that covers security, performance, access, networking, convergence, storage and hosted solutions.
Wick Hill is part of the Wick Hill Group, based in Woking, Surrey with sister offices in Hamburg. Wick Hill is particularly focused on providing a wide range of value added support for its channel partners. This includes a strong lead generation and conversion programme, technical and consultancy support for reseller partners in every stage of the sales process, and extensive training facilities. For more information about Wick Hill, please visit http://www.wickhill.com/company/company-profile or www.twitter.com/wickhill
About Allot Communications
Allot Communications Ltd. (NASDAQ, TASE: ALLT) is a leading global provider of intelligent broadband solutions that put mobile, fixed and enterprise networks at the center of the digital lifestyle. Allot's DPI-based solutions identify and leverage the business intelligence in data networks, empowering operators to shape digital lifestyle experiences and to capitalize on the network traffic they generate. Allot's unique blend of innovative technology, proven know-how and collaborative approach to industry standards and partnerships enables service providers worldwide to elevate their role in the digital lifestyle ecosystem and to open the door to a wealth of new business opportunities. For more information please visit: www.allot.com
Safe Harbor Statement
Information provided in this press release may contain statements relating to current expectations, estimates, forecasts and projections about future events that are "forward-looking statements" as defined in the Private Securities Litigation Reform Act of 1995. These forward-looking statements generally relate to the Company's plans, objectives and expectations for future operations, including the expectation to implement the next stage of deployment of tiered services and other prospects of the frame agreement. These forward-looking statements are based upon management's current estimates and projections of future results or trends. Actual future results may differ materially from those projected as a result of certain risks and uncertainties. These factors include, but are not limited to: the expected characteristics of the deployed solution with the LATAM Tier-1 Operator and the ability to secure future orders from said customer, changes in general economic and business conditions and, specifically, a decline in demand for the company's products; the company's inability to develop and introduce new technologies, products and applications; loss of market; and other factors discussed under the heading "Risk Factors" in the company's annual report on Form 20-F filed with the Securities and Exchange Commission. These forward-looking statements are made only as of the date hereof, and the company undertakes no obligation to update or revise the forward-looking statements, whether as a result of new information, future events or otherwise.
ENDS
For further press information, please contact Annabelle Brown on 01326 318212, email pr@wickhill.com. For pic of Ian Kilpatrick, please contact Annabelle Brown or download from www.wickhill.com/company/press/pictures. For reader queries, contact Wick Hill on 01483 227600. Web: http://www.wickhill.com/products/vendors/product/834/Allot-WebSafe-Personal-