Tenable expands presence in UK market through two-tiered channel distribution
Woking, Surrey: Tuesday, 5th May 2015 - VAD Wick Hill announced today that it has been appointed as a UK distributor for US-based Tenable Network Security®, Inc. Tenable is the world leader in continuous network monitoring, helping organisations of all types identify vulnerabilities, reduce risk and ensure compliance. The company plans to expand its presence in the UK market, particularly in the enterprise sector, through the channel using Wick Hill as a value added distributor in a two-tiered distribution model.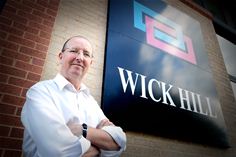 Ian Kilpatrick, chairman Wick Hill Group
Wick Hill will sell the full range of Tenable solutions. These include SecurityCenter Continuous View™, which provides the most comprehensive and integrated view of network health and Nessus®, the global standard in detecting and assessing network data.
Ian Kilpatrick, chairman Wick Hill Group, commented: "With increased mobility and a rapidly changing threat landscape, organisations need rapid overview, analysis and threat response on their networks. Tenable's market-leading solutions are experiencing very high growth, based on fulfilling that need. We already have significant channel interest ahead of the launch, so we are very excited by the opportunity."
Wayne Hollinshead, director of channel sales EMEA, Tenable Network Security, said: "Wick Hill's reputation for value added distribution and partner network, coupled with a proven track record of providing leading-edge enterprise security solutions, make them an ideal partner for Tenable as we continue to expand our position as the leading provider of continuous network monitoring solutions in the UK and globally."
SecurityCenter Continuous View
SecurityCenter Continuous View, Tenable's market-defining continuous network monitoring platform, brings together the unique sensors for vulnerability scanning, passive network monitoring and event data, and augments them with vulnerability and threat intelligence information to help take the pulse of your network at any time.
The recently launched SecurityCenter 5 delivers a new way to think about security assurance and risk assessment with the industry's first ever Assurance Report Cards (ARCs). Tenable ARCS in SecurityCenter 5 help CISOs and security teams measure, analyse and communicate the effectiveness of their security programmes to C-level executives, board members and business managers, helping align security policies with business objectives.
SecurityCenter 5 Key Features
Continuous asset discovery
Forensic analysis
Network health assessment
Vulnerability analytics
Malware detection
Compliance monitoring
Nessus
Nessus is the most widely deployed vulnerability scanner in the world. It is available in Nessus Manager for enterprise users and Nessus Cloud (SaaS) versions.
Nessus Manager combines the powerful detection, scanning and auditing features of Nessus with extensive management and collaboration functions. Nessus Manager enables the sharing of resources including multiple Nessus scanners, scan schedules, scan policies, and most importantly, scan results among an unlimited set of users or groups controlled from a single central console.
Nessus Cloud combines the detection, scanning and auditing features of Nessus with multi-user support for enterprise teams and the flexibility of a cloud deployment. Nessus Cloud is also a PCI DSS Approved Scanning Vendor (ASV) solution.
The recently launched Nessus Agents, available for both Nessus Manager and Nessus Cloud, addresses the unique security challenges that come with an increasingly mobile workforce. Agents help reduce the attack surface of your network by enabling portable devices, such as laptops, to be checked for vulnerabilities, configuration and compliance even when not connected to the network during scheduled assessments. Agents are lightweight, can scan virtual machines and help alleviate the credential headaches associated with traditional network scanning.
Nessus Key Features
Vulnerability scanning
Configuration auditing
Malware detection
Web application scanning
Risk Assessment
Mobile Device Auditing
Dashboards
Mobile device detection
Patch management integration
About Wick Hill
Established in 1976, value added distributor Wick Hill specialises in secure IP infrastructure solutions and convergence. The company sources and delivers best-of-breed, easy-to-use solutions through its channel partners, with a portfolio that covers security, performance, access, networking, convergence, storage and hosted solutions.
Wick Hill is part of the Wick Hill Group, based in Woking, Surrey with sister offices in Hamburg. Wick Hill is particularly focused on providing a wide range of value added support for its channel partners. This includes a strong lead generation and conversion programme, technical and consultancy support for reseller partners in every stage of the sales process, and extensive training facilities. For more information about Wick Hill, please visit http://www.wickhill.com or www.twitter.com/wickhill
ENDS
For further press information, please contact Annabelle Brown on 01326 318212, email pr@wickhill.com. For reader queries, contact Wick Hill on 01483 227600. Web http://www.wickhill.com