June 19, 2013 – Oncore IT, a Cloud and IT managed services provider, today announced that it has renewed a three year contract with Jeroboams Group, a leading London-based wine and whisky merchant, to provide on-premise and Cloud-based backup services, along with disaster recovery (DR), and remote server monitoring.
With 18.9 million bottles sold last year, Jeroboams Group caters for retail, trade and private customers through three brands: Laytons (trade wine sales), Milroy's of Soho (whisky) and Jeroboams (retail wine and private client sales). Founded in 1934 and privately owned, the group employs 70 staff and has nine shops in the capital.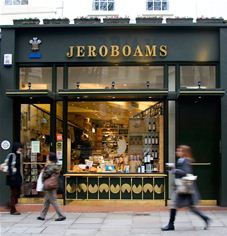 Jeroboams shop
Julian Harper, Jeroboams Group's IT manager, says, "Following the 7/7 London bombings, our chairman asked what would happen if we were caught up in an incident. At the time, other than using tape locally, we had no offsite disaster recovery provision or specialist managed service provider looking after our systems which is why Oncore IT was selected in 2005. They ensure our data is fully protected given it's what drives our business."
Under the contract, Oncore IT is providing an Asigra-based Cloud data backup solution, local on premise disc backup for non-core IT systems, its PReSS remote infrastructure monitoring service as well as IT staff holiday cover. An annual DR test is also included as part of the contract to ensure that everything functions as it should.
Jeroboams Group has adopted a centralised approach for core IT systems with its main database, email, web, and file and print servers located at its headquarters in Islington, north London. The company uses a mix of physical machines for main systems and virtualised servers to run non-core services such as Microsoft SharePoint and a replication system for its EPOS system. The various businesses and shops then all connect in using SSL VPN remote access technology. Backup is therefore centralised for the group.
Harper says, "We've renewed our contract with Oncore IT as they do everything we need, we have a good account management relationship and their support desk is proactive in monitoring the status of our backup cycles."
A specific secure Jeroboams Group 'vault' has been created on Oncore IT's enterprise-class Hitachi Data Systems storage platform. The vault contains the group's critical data which is encrypted both 'in flight' and at rest.
Backups are scheduled nightly and are run by just one Asigra DS client which was installed in Jeroboam Group's environment to collect data from its servers. This massively simplifies rollout and contrasts with other solutions which require monitoring agents on each and every system. Data is held in Oncore IT's London datacentre and replicated to its offshore facility in Amsterdam for resilience.
Harper explains, "Any small to medium sized business needs to back up core systems offsite so that in the event of a disaster, critical business information is protected. It's a simple insurance policy. You hope you'll never have to use it, but it doesn't make commercial sense to skimp and not have it."
In terms of infrastructure monitoring, Jeroboams is using Oncore IT's PreSS service [Proactive Remote Engineering Support Services]. Comprising over 10 years worth of intellectual property investment, PreSS allows systems engineers to monitor Jeroboam Group's servers, networking equipment and their Internet infrastructure linking their shops to avoid system downtime, maximise system performance and enhance organisational productivity.
In the eight years the two companies have been working together, a disaster recovery event has not been evoked. Paul Cook, Oncore IT's head of sales & marketing, concludes, "If it were, our response would be completely dependent on the event and our service level agreement is completely flexible to cater for this. We could host servers for Jeroboams Group in our virtual environment, ship temporary devices to site while equipment is purchased or fixed - whatever they require to ensure uptime and business continuity."
- ENDS -
About Oncore IT
Oncore IT is a Cloud Managed Service Provider (CMSP) with vast experience delivering and managing critical IT infrastructure for clients operating from highest standard secure datacentres in London and Amsterdam.
A variety of hosting, co-location and cloud-based managed services are offered to meet clients' specific business needs, all guaranteed by class-leading service level agreements and solutions looked after by professional, dedicated account managers and technical experts. Oncore IT makes infrastructure work because that's what makes businesses work.
For further information, please visit www.oncoreit.com
For further information, please contact
Tom Herbst
Tom Herbst PR
T:07768 145571
Email: tom@tomherbstpr.co.uk