Engineering students worldwide recognised for innovative designs
FRANKFURT - 11th April 2012 - Dimension 3D Printing, a brand of Stratasys, Inc. (NASDAQ: SSYS), today announced the winners in its eighth annual Extreme Redesign 3D Printing Challenge. The global contest encourages students to submit an innovative product design, a redesign of an existing product, or an original work of art or architecture.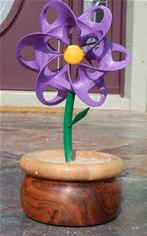 Desert Rose
Dimension 3D Printing is awarding each of three student winners $2,500 (approx. £1,630) or $1000 (approx. £650) scholarships in the categories of Middle and High School Engineering, College Engineering, and Art & Architecture. A list of winners follows. For full descriptions and supporting artwork of designs, visit www.DimensionPrinting.com/extremeredesign
Designs are awarded based on creativity, usefulness, part integrity and aesthetics. Instructors of the three first-place student winners will receive an Apple iPad for use in the classroom. With this year's awards, the contest will exceed the $100,000 (approx. £65,000) mark in scholarships granted since the contest's inception. This year's contest also features a bonus award category: Students who incorporated a school-spirit theme into their designs competed for a $250 (approx. £160) gift card.
College Engineering Category
Rank:
Continuous water supply hand pump: Akshay Gautam & Gauray Singh, Indian Institute of Information Technology, Design & Manufacturing - Jabalpur, India

Diabetic Testing Station: Zahraa Bazzi, Abrar Wazier, Stanley Marek, Wayne State University - Dearborn MI

Scissors for right and left-handed Users: Isabell Boqvist, Luleå University of Technology - Luleå, Sweden
Art & Architecture Category
Rank:
Desert Rose Kyle Whybrew, University of Central Florida - Grant, FL

Community Library Alex Tseng, Rice University - Houston, TX

Green Art Cristina-Maria Agape & Robert-Sebastian Dron, Palatul Copiilor si Elevilor Drobeta Turnu Severin - Drobeta Turnu Severin, Romania
Middle/High School Engineering Category
Rank:
Pro Sump Nicholas Pio, Warren High School - Downey, CA

Diagonal Slice Rubik's Cube Quentin Torgerson, Mars Area High School - Mars, PA

Sand/Salt Spreader Erik Fredrickson, Kingswood Regional High School - Wolfeboro, NH
Bonus Category: School Spirit
Tigre's Bot Tyler Kilgore, Mansfield Sr. High School - Mansfield, OH

Beer Stein Redesign Joseph Huser, Oklahoma State University - Stillwater, OK
Winners were selected by a distinguished panel of independent judges from industry and the engineering media. This year's judges are David Mantey, Editor at Product Design & Development magazine, Ian Kovacevich, VP of Engineering at Enventys, LLC, Patrick Gannon, Engineering Manager at rp+m (a Thogus partner), and Todd Grimm, Editor at Engineering.com.
For full descriptions and supporting artwork of designs, visit: www.DimensionPrinting.com/extremeredesign
Dimension, a brand of 3D printers by Stratasys, offers computer-aided-design (CAD) users a low-cost, networked alternative for building functional 3D models from the desktop. The 3D printer builds models layer-by-layer using ABS plastic, one of the most widely used thermoplastics in today's injection-molded products. 3D printing allows users to evaluate design concepts and test models for form, fit and function. Online at: http://www.dimensionprinting.com/
Stratasys Inc., Minneapolis, is a maker of additive-manufacturing machines for prototyping and producing plastic parts. The company markets under the brands uPrint and Dimension 3D Printers and Fortus Production 3D Printers. The company also operates RedEye On Demand, a digital-manufacturing service for prototypes and production parts. Stratasys manufactures 3D printers for Hewlett Packard, which it sells under the brand Designjet3D. In 2011 Stratasys acquired 3D printer maker Solidscape Inc. According to Wohlers Report 2011, Stratasys had a 41-percent market share in 2010, and has been the unit market leader for the ninth consecutive year. Stratasys patented and owns the Fused Deposition Modeling (FDM®) process. The process creates functional prototypes and manufactured goods directly from any 3D CAD program, using high-performance industrial thermoplastics. The company holds more than 285 granted or pending additive-manufacturing patents globally. Stratasys products are used in the aerospace, defense, automotive, medical, business and industrial equipment, education, architecture, and consumer-product industries. Online at: http://www.stratasys.com/
# # #
FDM, Dimension, Fortus, uPrint and Stratasys are registered trademarks of Stratasys Inc. Fused Deposition Modeling is a trademark of Stratasys Inc.
Attention Editors: If you wish to publish reader-contact information, please use: europe@stratasys.com; Telephone: +49 (0)69 420 9943 0, Fax: +49 (0)69 420 9943 33, http://www.stratasys.com/.
For more information or high res images, please contact:
Lisa Henshaw
Fourth Day PR
+44 (0)20 7403 4411
lisa@fourthday.co.uk; hannah@fouthday.co.uk