Second week of December typically the worst for unplanned absences
Office party fall-out and Christmas shopping are contributing factors
London, UK: 9th December 2019: Staff take more than twice as much unplanned leave in winter compared to summer, with a peak in the second week of December, according to statistics provided by e-days, the leader in global absence management solutions.
Data from 1,000 surveyed organisations shows that people took more than twice the monthly amount of unplanned leave last winter (the period December 2018 - March 2019), with the average absence rates at 1.25%, compared to 0.61% this summer (April to September 2019).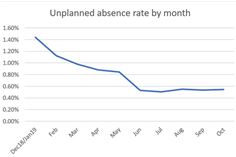 Staff absence graph
e-days data from December 2018 also sounds a warning for organisations this year. It showed that staff took most unplanned leave in the second week of December, with absence rates peaking at 2.26% on 12th December. 'Dire December' correlates with NHS employee sickness absence figures from 2018, where absence peaked at 4.41% - an all-time high over the year.
Steve Arnold, founder & CEO of e-days, commented: "The fact that companies are facing double the strain on their workforce during winter months is a big challenge for businesses to manage, and December is clearly a climax for these challenges, with factors like office parties, last minute shopping and winter bugs creating a perfect storm of absence. Understanding and planning for these trends will enable companies to be more proactive around these times of the year and help fix some of the pressures these winter woes create."
Astonishingly, further e-days research shows that only 84.2% of planned leave is taken in a typical year, meaning 15.8% of annual leave entitlement is discarded. "Encouraging staff to take the remainder of planned leave towards the end of the year is a simple remedy, but most organisations aren't even aware that staff aren't taking holiday to maintain work-life balance," added Arnold.
This year e-days created a Workplace Wellbeing Guide to tackle some of the issues relating to staff sickness and unplanned leave, and help businesses to identify the underlying causes of stress, anxiety and unhappiness.
ENDS
About e-days
Founded by CEO Steve Arnold and CTO Chris Moseley, e-days is an award-winning, cloud-based absence management system that makes holiday and absence tracking easy and accurate for organisations of all sizes, anywhere in the world. e-days delivers for more than 1,500 customers across 120 countries, including brands such as Canon, ASOS, AXA, Monster Energy, Barclays and Sony.
The e-days mission is to provide organisations with a global solution that saves time and money associated with processing employee absence. The company enables its customers to achieve better resourcing insight for planning purposes, and also plays a key role in helping organisations to improve employee wellbeing - both for the good of the employee and for the wider health implications this has on organisational success.
Website: https://www.e-days.com
Twitter: @edayssoftware
Press enquiries
For all media requests, please contact Edward Clark:
eclark@thecommsco.com // 0203 697 6680