Fast-growing European UC champion further develops activities at group level
Almere/ Dortmund/ Sophia Antipolis, February 19 2019 – Within Reach has strengthened its international management team by appointing Centile Managing Director Bertrand Pourcelot as Head of International Sales and Marketing. Bertrand is responsible for rolling out Within Reach's international sales and marketing strategy based on the group-wide portfolio as well as for further developing the existing international operations of the group in UK and France. The sales and marketing teams of Voiceworks, Swyx and ipnordic – Within Reach's labels in the Netherlands, Germany and Denmark – continue as before. They will work closely with the new international sales and marketing team led by Bertrand, while their organisations and reporting lines remain unchanged.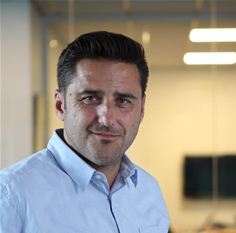 Bertrand Pourcelot
In 2018, Within Reach was established by Swyx and Voiceworks and shortly thereafter added Centile to the group, together becoming the European Unified Communications (UC) champion. Centile already has a strong international track record, with over 100 service providers and more than 650,000 users across 20 countries. Since its early days, the company has worked with customers and partners outside its native France. Bertrand Pourcelot has led Centile and its international business for over a decade, bringing his own extensive experience and expertise in the mission-critical software and communications industry, gained over 20+ years.
Dr. Ralf Ebbinghaus, co-CEO of Within Reach and CEO of Swyx, comments, "We have created the new position as Head of International Sales & Marketing for Within Reach in order to enhance the use of existing synergies within the group and we are delighted that we have been able to appoint someone with Bertrand's longstanding experience and competence." Stijn Nijhuis, co-CEO of Within Reach and co-founder of Voiceworks, continues, "Centile is the most international company within the group, so Bertrand is the best choice for the task of further developing our international sales and marketing activities at group level. We are very pleased that he has accepted these additional responsibilities while at the same time, remaining very dedicated to Centile's customers." Existing customers and partners in all countries can continue to rely on the comprehensive local support they have become accustomed to.
Expansion of the group's sales opportunities and portfolio
The first step of Within Reach's new Head of International Sales & Marketing will be to maximise cross-selling opportunities for the group-wide portfolio. After that, he will drive the expansion in other territories and build on the group's already innovative range of services and technologies which can already be customised across all main types of UC giving customers and partners in each country the best choice. UC options include on-premises IP-PBX or fully-cloud based communications, multi-instance or multi-tenant, fixed and mobile, SaaS, PaaS and managed cloud services.
Bertrand Pourcelot says, "I am very excited to lead a comprehensive sales and marketing team that brings together great knowledge and skills from across the group. These combined resources mean we can all learn a lot from each other and use this broad range of experience to be an agile pioneer within the group, influencing its roadmap and future initiatives. Our breadth and depth are unique in the market and we will continue our collective focus on innovation, simplicity and a great user experience to bring more value to our partners."
Within Reach (WR)
Within Reach is the group/parent company of several brands like Voiceworks, Swyx and Centile. All brands contribute to intelligent, integrated IT and communications solutions that ensure optimum communication and workflow across organisations. Within Reach operates in the core markets Germany, the Netherlands and France with activities in 25 countries and more than 580 employees. For more information about Within Reach, please visit www.withinreach.nl
Centile Telecom Applications
Founded in 1998 and headquartered in the Sophia-Antipolis Technology Park, near Nice, France, with a team of 50+ employees, Centile Telecom Applications is the leading European developer of Cloud PBX, Unified Communications (UC) and Fixed-Mobile Convergence (FMC) platforms for operators and integrators.
Centile allows Service Providers of all types to deliver compelling cloud communications solutions to business customers with its feature-rich, multi-tenant ISTRA platform. With built-in FMC, flexible application programming interfaces (APIs) and Mobiis, a revolutionary native mobile application, Centile ISTRA platform delivers to business end users the following services on the interfaces of their choice: Fixed and Mobile PBX features, unified messaging, auto attendant, voicemail to email, boss/secretary filtering, call barring, groups management, IVRs, ACDs, audio and video conferencing with screen and file sharing, Instant Messaging and presence.
Centile serves over 100 Service Providers in 20 countries with a total of 650,000 end users.

Media Contacts
Within Reach
Team Lewis
Tel: +31 (0)40 235 46 00
WR@teamlewis.com
Centile Telecom Applications
Karine Mérouze
MarCom Manager
karine.merouze@centile.com
Tel: +33 497 231 265
Maxine Ambrose
Ambrose Communications
maxineambrose@ambrosecomms.co.uk
Tel: +44 1491 412944