7th September, 2010: Wizards of the Coast LLC, a subsidiary of Hasbro, Inc. (NYSE: HAS) today released the Dungeons & Dragons Fantasy Roleplaying Game. Also known as the D&D red box, the game is the first release in the new Dungeons & Dragons Essentials line. The D&D red box celebrates the heritage of D&D and includes all the elements for new and lapsed players alike, to embark on their own epic adventures.
"We are thrilled to be re-introducing such a beloved product to existing, returning and new D&D players around the world," said Liz Shuh, Brand Director for Dungeons & Dragons. "Millions of players fondly remember the original version of this product and we are excited to be offering it once again for fans to enjoy world-wide."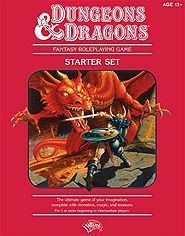 Red Box
Since its introduction in 1974, Dungeons & Dragons has long been setting the standard for tabletop gaming. With millions of players worldwide, D&D continues to be one of the most popular roleplaying games. Each day, players are embarking on fantasy adventures, solving dilemmas, engaging in battles, gathering treasure and accumulating experience points to help their characters become increasingly powerful.
The D&D Fantasy Roleplaying Game will be sold in Waterstones, Amazon.co.uk, Play.com, as well as all good gaming retailers, RRP £16.99.
- Ends-
About Dungeons & Dragons
Dungeons & Dragons is the iconic roleplaying game of fantasy and imagination that is part storytelling, part social interaction and part chance. Players take on the role of characters that go on a journey together through a fantasy realm to discover treasure, fight monsters and battle adversity while one member of the group (the Dungeon Master) creates, narrates and referees the game. Together, the Dungeon Master and the characters bring the game to life.
About Wizards of the Coast
Wizards of the Coast LLC, a subsidiary of Hasbro, Inc. (NYSE:HAS), is the leader in entertaining the lifestyle gamer. The company holds an exclusive patent on trading card games (TCGs) and their method of play and produces the premier trading card game, Magic: The Gathering, among many other trading card games and family card and board games. Wizards is also a leading publisher of roleplaying games, such as Dungeons & Dragons, and publisher of fantasy series fiction with numerous New York Times best-sellers. For more information, visit the Wizards of the Coast Web site at www.wizards.com.
Esdevium Games Limited is the UK's largest game distributor, supplying specialist and mass-market board games, card games, miniatures games, role-playing games, and other specialty games.
Samples available on request.
For more information please contact Louise Hathaway at the D&D press office on:
louise@nortonandco.com
01608 812830