Sister events in Kuala Lumpur, Sao Paolo and San Diego set to take message globally
19 March 2014 – Over 1,000 delegates from 40 countries attended Green Power Conferences' World Bio Markets event at the RAI in Amsterdam earlier this month. The conference and exhibition is the meeting place for "all things bio-based" and included an exciting agenda of keynotes, panels and workshops in conference streams. The subjects in these streams included Advanced Biofuels, Sustainable Feedstocks, Bio-based Chemicals and Products, Plant Process & Design, Sustainability & ILUC and Strategic Finance and Investment.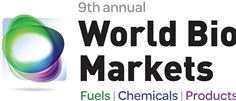 World Bio Markets Logo
The exhibition has seen significant growth in the last year, with over 20% more floor space occupied and a comprehensive list of key organisations in the sector.
Watchword of the event was the progress towards commercialisation as many conversations and presentations took place around the manufacturing and supply of real world bio-based products – encompassing a wide range of sectors from bioplastic bottles to face creams, fragrances, flavourings and aromatics, as well as commercially sustainable biofuels and new packaging materials. Coca Cola, winners of the Industry Champion Award at the Sustainable Bio Awards on the second day of the event, confirmed that it has already shipped over 20 billion bioplastic bottles made with 30% renewable material and is currently the biggest bioplastic end user in the market.
World Bio Markets Amsterdam is the biggest and longest-running of a global series of bio-based events which now encompasses Asia, South America and North America as well as Europe. New this year is the Asian event, set to take place in Kuala Lumpur from 17-18 June 2014. This is followed by World Bio Markets Brasil, now in its 4th year and set to take place in Sao Paolo on 16-17 September 2014 and the sixth annual World Bio Markets USA in San Diego from 28-29 October 2014.
Next year's European event is already in advanced planning and marks the tenth anniversary of the show. In line with the rapid advancement of the industry, the 2015 event will focus on four major streams: Fuel, Chemicals, Supply and Products to align it with the industry trends.
"World Bio Markets has grown to become the premier event in the bio-economy," said Green Power's CEO Nadim Chaudhry. "As we approach our tenth year we have been able to mirror the expansion of this industry with the addition of new events across the globe, with World Bio Markets Asia launching for the first time this year.
"This year's event in Amsterdam has been our best yet - and the feedback we keep getting from those who attended, spoke or exhibited at the event is that it is THE meeting-place for the industry. We estimate that hundreds of meetings have taken place throughout the event, some formally, many informally too. There has been consensus and controversy, but not a single dull moment!"
For all conference testimonials and to find out more about the World Bio Markets 2014 series and the tenth World Bio Markets event in Amsterdam in 2015 go to www.worldbiomarkets.com
To find out how to make nominations and for further information on the Sustainable Bio Awards go to www.sustainablebioawards.com
About Green Power Conferences
Green Power Conferences is the market leader in renewable energy conferences. Since 2003, over 22,000 delegates have attended more than 200 conferences, exhibitions, workshops and training courses providing strategic business intelligence to the renewable energy and sustainability industries. Green Power's expertise lies in producing high quality, interactive events that provide ample networking opportunities for delegates, sponsors and partners. They specialize in renewable energy and produce a broad portfolio of events for the wind, solar, biofuels, biomass, biogas, geothermal, ocean energy and climate finance markets. More information and a full list of current conferences is available at: www.greenpowerconferences.com.
Media Contact
Hollie Lundgren
Marketing Manager
Green Power Conferences
Hollie.lundgren@greenpowerconferences.com
Sheila Lashford
Proactive International PR
Sheila.lashford@proactivepr.com
Tel: +44 (0) 1636 812152