Beta Renewables, Abengoa and Gevo to participate in biorefinery stream, with Coca-Cola, Bridgestone and Bayer speakers to enliven debates in the main event
12 December 2013 – World Bio Markets, the global integrated Biofuels and bio-based chemicals event is to launch a new extended segment on biorefinery plant design and optimisation for the first time in 2014. Set to take place at the RAI in Amsterdam for the ninth consecutive year, World Bio Markets is a well-established, integrated discussion and networking forum for the global bio-based fuels and chemicals industries.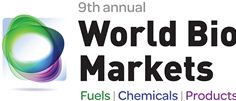 World Bio Markets Logo
New to World Bio Markets 2014, the new Biorefinery Segment will feature discussions led by those with steel in the ground and will focus on how to generate overall process profitability. Beta Renewables will evaluate the lessons learnt since the opening of their Crescentino ethanol plant, whilst Abengoa will focus on strategies for process optimisation and Gevo will review the paths to increased process efficiency.
"We are delighted to be extending our programme to cover the debate on biorefineries," said Dr Charlotte Linfoot, Global Bio Markets Series Director. "This two-day conference dedicated to biofuels and bio-based chemical plant design and processing arrives at a time when commercialisation is the word on everyone's lips. It is a welcome addition to the excellent mix of topics as the event continues to grow."
The Coca-Cola Company, Bridgestone, Bayer, Ecover and AkzoNobel are highlights of the World Bio Markets event as it delves deeper into the realms of bio-based chemicals. With sessions dedicated to bio-based plastics and segments looking at the latest applications for the automotive and cosmetics sectors ensure your company stays at the sharp end of this evolving sector.
With keynotes confirmed from the European Commission, ePure, Beta Renewables, UPM, DSM and UNICA this is the one place to meet the entire bio universe under one roof!
The World Bio Markets conference and exhibition has grown alongside the industry and with over 1500 delegates and 100 commercial partners expected in 2014 this is the platform to hear the latest industry news, to take part in driving growth in the market and to brush shoulders with the most influential senior level representatives in the bio-based world.
Industry leading companies have already confirmed their support as sponsors of the 2014 edition including Beta Renewables, Biogasol, Boeing, Clariant, CRI Catalyst, DSM, Inbicon, Neste Oil and UPM.
-MORE INFORMATION-
For all of our conference testimonials and to find out more about World Bio Markets 2013 go to www.worldbiomarkets.com
About Green Power Conferences
Green Power Conferences is the market leader in renewable energy conferences. Since 2003, over 22,000 delegates have attended more than 200 conferences, exhibitions, workshops and training courses providing strategic business intelligence to the renewable energy and sustainability industries. Green Power's expertise lies in producing high quality, interactive events that provide ample networking opportunities for delegates, sponsors and partners. They specialize in renewable energy and produce a broad portfolio of events for the wind, solar, biofuels, biomass, biogas, geothermal, ocean energy and climate finance markets. More information and a full list of current conferences is available at: www.greenpowerconferences.com.
Media Contact
Bryony Abbott
Marketing Manager
Green Power Conferences
Bryony.Abbott@greenpowerconferences.com