PANASONIC TOUGHBOOK CF-AX2'S VERSATILE DESIGN IDEAL FOR MOBILE SALES WORKFORCES AND EXECUTIVES
BRACKNELL, UK. 12 DECEMBER 2012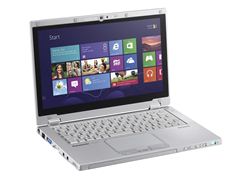 TOUGHBOOK CF-AX2
Panasonic today unveiled the world's lightest* business rugged, convertible Ultrabook™ with a unique Flip-Over design making it ideal for mobile sales workforces and executives to use in notebook or tablet mode. Combining high usability, style, durability and long battery life with hot swappable, replaceable battery, the Toughbook CF-AX2 is one of the first ready-made Microsoft Windows 8 Pro certified devices. This means business users can have the best of both worlds, using the Toughbook CF-AX2 as both a desirable touch-screen tablet and state-of–the-art, stylish Ultrabook™.
Drawing on its long pedigree of combining ergonomic and durable design, Panasonic has created the Toughbook CF-AX2 with a unique and robust 360° Flip-Over hinge design, allowing the device to be used in very different business situations and offering business users a new level of working freedom.
In Notebook mode, the CF-AX2 is ideal for mobile executives who need traditional keyboard access for information input. In Tablet mode the device is ideal for sales workforces, research teams and executives who need to input data on the screen while on the move and holding the device in one hand.
Ideal for mobile workers
Weighing in at just 1.15kg (standard model), this sleek (18mm thick) and compact hybrid Ultrabook™ is ideal for workers on the move. Designed to easily deal with the knocks and scrapes of a busy mobile executives life, the CF-AX2 can withstand bottom drops of up to 76cm** and 100kgf*** pressure on the screen without damage.
With its 11.6" capacitive HD (16:9) display, 10 finger multi touch, anti-glare film and various sensors the unit is optimised for the Windows 8 Pro operating system and the needs of executives working both inside and out.
The power for busy executives
With its third generation Intel® Core™ technology, the device has the processing power to deal easily with the needs of its users. The high performing, low power consumption Intel® Core™ i5-3427U Ultra Low Voltage CPU (1.8GHz) and state-of-the-art storage options (4GB RAM standard and 128GB SSD standard) make the CF-AX2 one of the most versatile and powerful devices on the market. The Toughbook Ultrabook™ is supported with a 8-hour battery life (MobileMarkTM 2007, 60cd/m²) with hot swappable function for all day mobile computing.
Fully equipped for business
The Toughbook CF-AX2 is also fully equipped with all the required business ports, including VGA and HDMI for display and projector connections, two USB 3.0 ports and LAN, as well as a full SD-XC card support for camera image storage for example.
The device is also optimised for connectivity whatever the location and includes the Gobi 3000 3G module****, Bluetooth® 4.0 and Wireless LAN IEEE802.11a/b/g/n.
In addition, in industries where security and information protection are mandatory, the CF-AX2 can be equipped with a contact smartcard slot*****. Also vPro™ is included and the unit can be equipped with Intel® Anti Theft or Computrace solutions.
"This latest Toughbook is the new benchmark for business Ultrabook™," said Jan Kaempfer, Head of European Marketing, at Panasonic Computer Product Solutions. "By utilizing business interfaces, security options, hot swappable batteries, an innovative strengthened 360° flip over hinge and its business rugged design, the CF-AX2 is designed to ideally match the needs of the busy mobile executive."
The Toughbook CF-AX2 goes on sale in Europe from January 2013. The device will be available from Panasonic official distributors, Premium Partners, ISV Partners and Registered Partners at an estimated street price of £1,331 + VAT for the standard model
* Among 11.6" Hybrid PC, as of Dec 5th, 2012
** Tested at Panasonic Factory in operating mode and dropped on 2" plywood from the bottom-side."
*** Tested at Panasonic Factory. This performance test does not guarantee against damage
or malfunction.
**** Optional.
***** Factory option. This model will be available after February 2013.
For further information visit www.toughbook.eu.
Press contact:
Paul Smith
paul@ambergroup.net
Tel: +44 (0)7770 828525
About Panasonic System Communications Company Europe (PSCEU)
PSCEU is the European branch of Panasonic Systems Communications Company, the global B2B division of Panasonic. PSCEU's goal is to improve the working lives of business professionals and help their organizations efficiency and performance. We help organizations capture, compute and communicate all sorts of information: image, voice, and textual data. Products include PBX telephone switches, document printers, professional cameras, projectors, large visual displays and rugged mobile PCs. With around 500 staff, engineering design expertise, global project management capability and a large European partner network, PSCEU offers unrivalled capability in its markets.
The new PSCEU is made up of four business divisions:
Communication Solutions including professional scanners, multifunctional printers, telephony systems and HD video conferencing systems.

Visual System Solutions including projectors, interactive whiteboards, presentation aids and displays. Panasonic is the European market leader in projectors with 28% revenue share.

Professional Camera Solutions including professional audio visual, security and industrial medical vision (IMV) technology. Panasonic is one of the top two professional camera vendors in Europe.

Computer Product Solutions including the Toughbook range of rugged notebooks, Toughpad business tablets and electronic point of sales (EPOS) systems. Panasonic Toughbook is European rugged and durable notebook market leader with 65.8% market share in 2011 (VDC, March 2012).
Panasonic Corporation is a worldwide leader in the development and manufacture of electronic products for a wide range of consumer, business, and industrial needs. Based in Osaka, Japan, the company recorded consolidated net sales of 7.85 trillion yen (€71.4 billion) for the year ended March 31, 2012. The company's shares are listed on the Tokyo, Osaka, Nagoya and New York (NYSE:PC) stock exchanges. For more information on the company and the Panasonic brand, visit the company's website at http://panasonic.net/