Mobile workforce software from 1st Touch (www.1sttouch.com) has enabled Wulvern Housing to reduce rent arrears by helping customers overcome the challenges of Welfare Reform. Wulvern is an award winning housing association, providing affordable homes and services across Cheshire and into Staffordshire. The Association, which aims to deliver 'brilliant social housing', manages over 5300 homes and has 15000 customers in and around Crewe and Nantwich. A wide range of high-quality affordable homes is available including; properties for rent, shared ownership, sheltered accommodation and extra care, as well as homes for people with disabilities. Wulvern is also developing 1000 new homes over the next four years and is working to rejuvenate existing estates and communities.
With the challenges arising from the introduction of Welfare Reform, Wulvern Housing Association wanted to get closer to understanding its customers' needs. One approach to achieving this was an investment in enterprise mobile workforce technology from 1st Touch.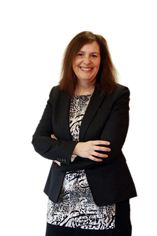 Sasha Deepwell
As Sasha Deepwell Deputy Chief Executive of Wulvern Housing explains; "Mobile technology at Wulvern is part of a much bigger picture as it's a part of our social, financial and digital inclusion strategy which is designed to enable our customers to prosper.
"We felt that unless the issues surrounding Welfare Reform were managed professionally, that some of our customers might find themselves under greater financial pressure. The risk was that there might be an increase in arrears. As a result, we conducted an evaluation to understand the nature and scale of the issues involved. The data showed us that some tenants were likely to find it increasingly harder to make ends meet. We realised from this that we needed to mobilise our services so that we could help our customers more. Indeed, there were a range of ways that we could help them improve their financial position, from helping to find employment and training through to assisting with health issues or identifying unclaimed benefits. Whilst our call centre works very well in practice, we decided that the best thing to do was to get our incomes team out of the office, which would enable us to have more one-to-one personal contact with our customers. As a result our strategy became one of mobilising our incomes officers and moving them to the front line."
Wulvern's new approach was to re-organise their service into patch sizes of 250 homes, each with a Neighbourhood Officer, so that they got to know all the residents in that area. This would allow the officers to sit down with the customers and to identify how best they could help. To do this, Wulvern needed to equip their team with a mobile solution that gave them access to all the forms and data they needed when visiting their customers. Wulvern chose 1st Touch.
Sasha Deepwell continues; "By using 1st Touch, our officers have up-to-date 'live' information whilst visiting customers. As a result, 1st Touch has played a significant part in enabling our customers to prosper by allowing us to get to them before Welfare Reform became a problem. This has not only helped us to improve our performance in relation to arrears but it has also improved our customer satisfaction levels too."
From concept to pilot to 'going live', the mobile project at Wulvern took shape rapidly. As Ian Rutherford Wulvern's Application Developer & Project Manager notes; "The mobile project came about as a result of a Lean Systems Intervention with the IT team effectively project managing and facilitating the introduction of mobile technology to enable Neighbourhood Officers to spend more time in the field with our customers. Wulvern is widely acclaimed for its history of lean thinking and continuous improvement and we follow Vanguard principles here. This ensures that not only are projects handled professionally and efficiently but they are also designed to put the customer first and to help them as much as possible. So initially, with the introduction of mobile technology we wanted to look at the income management process as a whole, particularly in terms of ensuring our customers pay the right amount of rent and to pay it on time. Our analysis showed that the earlier an arrears case could be contacted the more likely that case would be cleared. Therefore it's important to contact these customers as early as possible to help them with their account where necessary.
"To achieve this, we needed a rapid application development platform that would link an effective mobile solution with our existing Aareon QL Housing Management System. 1st Touch was chosen as it has a successful existing integration with QL. In addition, it's an effective, device independent solution with a large sized company support behind it. This significantly decreases the business risk to Wulvern. In fact, in making our choice, we were also aware that, along with Aareon's QL, 1st Touch is the market leader in the social housing sector."
Working with 1st Touch, Wulvern quickly developed a 'Best Practice' approach. The project was delivered in 49 working days from the first requirements meeting to the project's 'Go Live'. This included a rigorous testing programme, an upgrade to QL and putting in place the necessary server infrastructure to support 1st Touch.
As Ian Rutherford notes; "The speed with which we went live with the 1st Touch app was very impressive and our Incomes Officers found the application easy to use and quickly found their way around it. So with 1st Touch, we were quickly able to convert a role that was initially office based and make it into a mobile one, more capable of supporting and helping our customers."
With 1st Touch in place, Wulvern's Neighbourhood officers have all the information they need at their fingertips. Amongst the information they are able to access and update is rent account history, payments history and arrears activity. Using 1st Touch mobile technology, Wulvern's Officers can take payments and capture data to set up or amend direct debits. All of this can be updated back to Wulvern's back office Aareon QL housing system. In addition, Neighbourhood Officers can now also draw up individual financial plans electronically whilst visiting residents.
For Ian Rutherford the results speak for themselves; "Our rental arrears fell from 3.9 % of our rental income in September 2013 to 3.19% of our rental income in April 2014. There are other benefits too such as increased efficiency with the number of customer visits rising by 15%. Wulvern's customers also feel that there has been a marked increase in customer service too. One interesting comment from a Neighbourhood Officer is that the customers seem to take more notice of rent balances when presented on the Neighbourhood Officer's iPads. So overall, 1st Touch has helped us meet our Value For Money strategy: to drive down costs, to increase customer satisfaction and to improve services. There is no doubt that the introduction of 1st Touch and mobile technology has made a significant improvement to the services we are offering to our customers."
Robert Dent CEO of 1st Touch sees Wulvern's mobile application as an excellent example of the benefits that mobile technology can deliver. In his view; "In seeking to help their customers meet the challenges of Welfare Reform, Wulvern has set out to mobilise their incomes team using 1st Touch. By putting their customers first, Wulvern has got closer to its customers and also reduced arrears. This is a win win situation and as such is a shining example of Best Practice. We look forward to working with Wulvern on other areas where we can help them support their customers."
A video of Wulvern Housing's use of 1st Touch mobile workforce technology can be found here:
http://www.1sttouch.com/downloads/cat_view/27-video.html
Ends
Note to Editors: About 1st Touch (www.1sttouch.com)
Southampton based 1st Touch, a subsidiary of Aareon AG (www.aareon.com), has enabled dozens of field workforce-based organisations to embrace new mobile technologies and so achieve significant savings, greater productivity and more cost-effective use of resources. 1st Touch Mobile delivers clear and unique benefits: These include the system's acclaimed 'Smart Airtime' feature where 'airtime' is minimised and the system is always available with or without 'airtime'. The system's flexibility through simple customer control over forms creation and amendment is also widely acclaimed. There is Integration to multiple back office and other enterprise software applications, so that data is entered only once.
With its widely acclaimed mobile technology, 1st Touch has a clear focus on the Social Housing and Local Government markets. Many social housing providers and local authorities, at large, now benefit from the fast and tangible, best of breed benefits that 1st Touch mobile technology delivers to the enterprise.
To date, over 50% of the social housing market, which has deployed mobile technology, has chosen to implement 1st Touch. In local government, 1st Touch has already been adopted for a wide range of mobile workforce uses. Ready to use applications for local authority organisations include: Public Buildings, Highways/Street Services, Environmental/Waste Management, Revenues and Benefits, together with Planning Control and Trading Standards.
1st Touch software is available on a wide variety of platforms including: Windows Mobile, Apple and Android.
For further information on 1st Touch please contact:
Sally Cops
1st Touch
02380 111206
sally.cops@1sttouch.com
www.1sttouch.com
or
Leigh Richards
The Right Image PR & Marketing Group
07758 372527
leigh.richards@therightimage.co.uk
www.therightimage.co.uk