Yazino's latest in-sync multiplayer slots game allows players to team up and compete as jewel thieves in a race to crack the code and steal the gems!
London, November 22, 2011 – Yazino, a developer of innovative social games using real-time multiplayer technology known as in-sync gaming today announced the launch of High Stakes, its newest slots game available now on Yazino.com and via Facebook. A unique take on the classic slot game, High Stakes incorporates a goal-oriented back-story that has players competing to move up the ranks in a gang of gem thieves.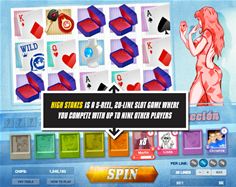 High Stakes screenshot 1
"Slots games are the simplest and most popular casino-style games on the web. We took the slots game mechanic and complemented it with a unique Yazino twist by adding a real-time multiplayer dynamic for live social gameplay and the ability to team up or challenge friends," said Hussein Chahine, Yazino's Founder and Chief Executive. "High Stakes takes a game that millions of players already love and turns it into something more fun, more exciting and more rewarding. We have reinvented the slots game as a truly social experience."
High Stakes is a 5-reel, 20-line slot game that lets up to 10 people compete as a team. You play as a member in a gang of gem thieves, working your way up the ranks to become the "Boss", giving you the chance to crack the code on the safe, steal the gem and maximize your payout. As you progress, you receive bonuses which, based on your initial stake, increase every time you spin. The more you play the higher your bonus becomes, giving you the extra boost you need to open the safe and escape with the jewels inside. When someone guesses the final digit on the safe correctly, the top six members of the team get paid, with your rank and bonus determining just how big your share of the score will be.
High Stakes is available now at www.Yazino.com/highstakes and via Facebook at http://www.facebook.com/YazinoHighStakes.
About Yazino
Yazino develops innovative social games which use real-time multiplayer technology - an approach we call 'in-sync gaming'. Yazino players are able to compete with each other in a fun environment where they can invite their friends, chat, or simply play with a network of like-minded people to create new levels of real-time social interaction and friendly competition between people. Yazino games feature levels, achievements, leaderboards and tournaments between you, your friends and the rest of the Yazino world.
Yazino is the destination for playful grown-ups seeking an intimate and fun social gaming experience. We believe that friendly competition encourages play and positive interaction, and in our busy, often serious world, play creates happiness and brings players together. While playing games, we become the truest version of ourselves.
Yazino was commercially launched in August 2010 with the ambition to make multiplayer social gaming truly social and universal. Yazino has launched seven in-sync social games to date - Wheel Deal, Roulette, Blackjack, Texas Hold'Em Poker, Hissteria, Extreme Bingo and High Stakes. More than two million players already play and connect around Yazino games, and more are joining every day.
Explore for yourself what makes Yazino games so different. Yazino.com.
Yazino was founded in 2009 by Hussein Chahine, Bijan Khezri and Gojko Adzic.
# # #
For more information please contact:
Europe:
John Ozimek for Yazino
jozimek@chomppr.com
+44 (0) 7949 201 569
USA:
Tara Bruno for Yazino
tara@highwatergroup.com
+1 (914) 260-6633