Financing with New Guinea Energy represents 4th oil and gas deal since January 2010
(London/New Jersey, 30/07/2010) Yorkville Advisors, LLC (Yorkville), the alternative investment firm, is pleased to announce it has completed its 20th Standby Equity Distribution Agreement (SEDA), a proprietary equity financing, for 2010. This transaction was an AUD $25 million (US$ 23 million) facility with Australian Stock Exchange listed New Guinea Energy (ASX: NGE), a company focusing on oil and gas exploration in Papua New Guinea, also represents the fourth oil and gas SEDA since the beginning of the year.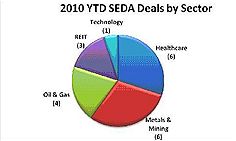 2010 YTD SEDA Deals by Sector
2010 has been a very successful year for the SEDA, with the number completed by Yorkville so far this year rising to 20, representing a total of US$467.59mm in commitments, from 17 over the same period in 2009.
Pioneered 9 years ago by Yorkville, a SEDA offers companies a flexible and cost effective way of raising capital in pursuit of their growth strategy. The terms of the SEDA enable an investee company, at its discretion, to raise funds in tranches by issuing new equity, based upon market price at each drawdown, over a defined commitment period.
The oil and gas sector is one of Yorkville's core sectors for investments in 2010. This sector currently represents 20% of new investments this year, up from a total of 10% overall in 2009.
By country, Yorkville has entered into the largest number of SEDAs (equity line facilities) in Australia, with 5 completed so far this year. The second and third biggest countries for Yorkville were Canada with 4 SEDAs and the United States with 3 SEDAs. Yorkville has expanded the number of countries where it has completed SEDAs to include Sweden and has now entered into this type of financing in 16 countries since starting to offer it in 2001. Other countries it completed SEDAs in 2010 include Germany, England, Norway and Singapore.
Mark Angelo, CEO of Yorkville said, "To date in 2010, Yorkville continues to see an incredibly strong deal flow and the enormous popularity of the SEDA as companies seek to raise equity without compromising their capital structure. We entered into a total of 40 SEDAs in 2009, up from 12 in 2008. With 20 SEDAs already arranged in 2010, we are well on our way to completing an even larger number this year and we continue to look for great companies and management teams to partner with through this financing."
- ENDS -
About Yorkville Advisors
Yorkville Advisors, LLC is a New Jersey, US-based alternative investment firm.
Founded in January 2001 by Mark Angelo, Yorkville specialises in providing flexible, innovative debt and equity investments and financing in publicly listed companies worldwide in a variety of sectors including energy, mining, technology media & telecommunication (TMT), healthcare and shipping. Yorkville has a broad investment mandate and the flexibility to invest across many geographies as well as sectors.
Yorkville tailors its financings according to each company's need and offers a mix of debt structures, bridge financings, asset backed loans, equity facilities and, in some cases, equity injections.
Yorkville has offices in Jersey City, New Jersey; Jupiter, Florida; Denver, Colorado; London and Hong Kong. It also has a joint venture agreement in Italy.