September 17, 2012, Ascot, UK – ZBD, a leading provider of fully graphic epaper display systems for retailers and industrial users globally, today announced it has ranked fifth in the Tech Track 100 league table, which lists Britain's top 100 private tech (TMT) companies with the fastest-growing sales over the latest three years. Tech Track 100 is compiled by Fast Track annually and published in The Sunday Times each September.
A mention in the league table is a mark of distinction for successful private growth British companies and significantly boosts their public visibility. Previously named companies have gone on to become household names.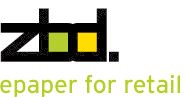 ZBD Logo
"We are honoured and delighted to secure a place in the Sunday Times Tech Track 100 league table," said ZBD CEO, Shaun Gray. "This recognition reflects a sustained period of growth for ZBD and our ability to bring together science, technology and high-tech manufacturing to create and apply systems that make a real difference to our customers' businesses."
"Our position within the top five fastest growing private tech companies proves that UK businesses can develop and manufacture successfully in the global high-tech space. Over the last three years, we have been strongly export-led, deriving 99% of our revenues from international customers. More recently, we've seen that exceptional success translate into the local market and a number of UK retailers are now rapidly adopting our epaper display system. This has all been achieved with the continued support of our long-standing shareholders which has allowed us to grow at such a rapid rate, with real sustainability."
Sales for ZBD grew 213% a year from £396,000 in 2009 to £12.1 million in 2012, as demand for its epaper solution was driven by retailers wishing to improve efficiency and reduce costs by automating the management and update of pricing, product and promotional information. The solution's ease of use and rapid return on investment has attracted loyal customers from across the retail sector. There are now more than three million ZBD epaper displays in 700 retail installations around the world.
Outside the retail sector, ZBD continues to experience success with 40 non-retail clients across eight sectors including motor manufacturing, materials movement, healthcare and aerospace. ZBD's technology is currently used in 24 countries around the world.
ENDS
Notes for editors
About ZBD:
Formed in 2000 out of QinetiQ, ZBD is a pioneering company with its own R&D, full IPR and scalable manufacturing processes that enable it to deliver an epaper solution with practical commercial advantages for retailers.
ZBD is a leader in the design and supply of electronic shelf edge labels and associated software solutions for the retail industry. The company has developed the next generation of LCD, creating high-contrast bistability that requires no battery power to retain its image. Its range of epaper displays provides retailers with a total store solution and the ability to manage and update pricing, product and promotional information at point of purchase, dynamically.
For further information on ZBD, visit http://www.zbdsolutions.com or follow ZBD on Twitter at @zbdsolutions.
Media contact at ZBD:
Sarah Hool
Tel: +44 (0)1344 292 110 or +44 (0) 7753 573 490 (mobile) | sarah.hool@zbdsolutions.com
Georgia Hanias / Judith Massey
Tel: + 44 (0) 207 6389571 | zbd@citigatedr.co.uk