Ascot, UK – ZBD, the leading provider of fully graphic epaper display systems for retailers globally, has announced that Swedish DIY store Fredells Byggvaruhus has chosen to implement ZBD's epaper displays and Breece System from its Nordic partner, Delfi Technologies A/S to ensure clear and accurate product information at the shelf.
Fredells Byggvaruhus was originally founded in 1903 and is still a family owned business. It opened its current 44,000 square feet store in Stockholm, Sweden in 2000. Fredells chose to implement the new system so that it could provide clear and accurate product information via epaper displays on the shelf edge. Product, delivery, and order information can all be displayed, which means that orders, inventory and price/product updates can be made directly from the shop floor.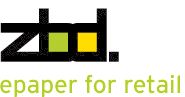 ZBD logo
Each of the epaper displays has been customised with a yellow 'zone' to highlight the price per kilo/unit, which is set against a yellow background. This is a legal requirement in the Swedish retail market.
Anders Lassfolk, CFO, Fredells Byggvaruhus in Stockholm Sweden explained: "With the ZBD and Breece system, we don't need to worry about whether we have the right product information and prices throughout the store, as updates happen automatically. The information that we have in our system is displayed directly at the shelf. At the same time, we can optimise other areas such as showing stock and ordering information on the epaper displays."
David Morgan, SVP, Global Sales at ZBD said: "We are delighted to achieve another first for ZBD by working with DIY store Fredells Byggvaruhus. This implementation demonstrates the flexibility of our system: it is not just about accommodating price changes, but much more about opportunities to display additional information such as QR codes, logos and stock information."
Notes for editors
About ZBD:
ZBD is a leader in the design and supply of electronic shelf edge labels and associated software solutions for the retail industry. The company has developed the next generation of LCD, creating high-contrast bistability that requires no battery power to retain its image. Its range of epaper displays provides retailers with a total store solution and the ability to manage and update pricing, product and promotional information at point of purchase, dynamically.
For further information on ZBD, visit http://www.zbdsolutions.com or follow ZBD on Twitter at @zbdsolutions.
Media contact at ZBD:
Sarah Todd
Tel: +44 (0)1344 292 110 or +44 (0) 7753 573 490 (mobile) | sarah.todd@zbdsolutions.com
Judith Massey / Georgia Hanias
Tel: + 44 (0) 207 6389571 | zbd@citigatedr.co.uk
About Delfi Technologies
Delfi Technologies is a well-established company that has existed in the retail business since 1988. The company consists of 2 divisions, ISP Division and Breece Division with offices in Denmark, Sweden, Norway, Vietnam and the U.S. For further information, please visit www.breecesystem.com or contact Business Development & Marketing Manager, Caroline Hagen, caroline.hagen@delfi.com.