ZBD´s proven epaper system enables German pharmacies to ensure accurate pricing and display enhanced product information at the shelf edge
Ascot / Berlin, April:-- ZBD, the leading provider of fully graphic epaper display systems for retailers globally, has announced that SaniPlus Apotheken Lauterbach e.K., a leading innovator in the pharmacies sector in Germany, has implemented ZBD's epaper system in all four of its pharmacies.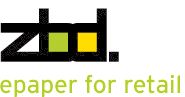 ZBD
The stores, all located in Munich, had previously been using segment electronic shelf labels, which include a paper element. All stores have now switched to ZBD's fully graphic epaper displays to update and manage pricing and product information.
ZBD's Bounce software has been integrated with the PROKAS back-office system from Awinta, ZBD's partner, and one of the largest providers of ERP systems to pharmacies in the German healthcare market.
SaniPlus Apotheken e.K. is using ZBD's technology to update medical product information, manufacturer logos and pricing, both within the customer-facing areas of the stores as well as within the areas of the store just used by staff.
As a next step, more detailed information such as specific medical recommendations as well as the locations of other products will be displayed at the shelf edge.
Using ZBD's epaper system saves the pharmacies both time and money because they no longer have to print paper every time information and prices are updated during the day. This also frees up pharmacy store staff to focus on delivering excellent customer service.
ZBD's strength as an RF wireless system, with its simple infrastructure, was clearly demonstrated when installation took place during normal business hours without any disruption to the operation of the store, or to staff or customers. The older-style segment labels have been replaced by ZBD's fully graphic epop 50 and 55 displays.
Franz Josef Buschmeier, Head of ZBD Central & Eastern Europe said: "Following ZBD's recent installations in the health sector in Spain, Austria and Poland, these implementations in Germany are clearly an important milestone for ZBD that has already led to our next pharmacy installation in Cologne. The pharmacy market in Germany can benefit greatly from our epaper system, and we are looking forward to continuing to promote our pharmacy package."
ENDS
About ZBD:
Formed in 2000 out of QinetiQ, ZBD is a pioneering company with its own R&D, full IPR and scalable manufacturing processes that enable it to deliver an e-paper solution with practical commercial advantages for retailers.
ZBD is a leader in the design and supply of electronic shelf edge labels and associated software solutions for the retail industry. The company has developed the next generation of LCD, creating high-contrast bistability that requires no battery power to retain its image. Its range of e-paper displays provides retailers with a total store solution and the ability to manage and update pricing, product and promotional information at point of purchase, dynamically.
For further information on ZBD, visit http://www.zbdsolutions.com or follow ZBD on Twitter at @zbdsolutions.
Media contact at ZBD:
Sarah Todd
Tel: +44 (0)1344 292 110 or +44 (0) 7753 573 490 (mobile) | sarah.todd@zbdsolutions.com
Georgia Hanias / Judith Massey
Tel: + 44 (0) 20 7638 9571 | zbd@citigatedr.co.uk