Alaska Activebrush® range with patented active valve system uses up to 90% less water than a hose brush
Stansted, England, 14th January 2009 - Scandinavia's leading car care product specialist, Alaska, has teamed up with the UK's best known car care retail store, Halfords, to deliver the ultimate car cleaning solution. Featuring a built-in aqua chamber with patented active valve system and premium quality soft bristles, the new Alaska Activebrush® range provides unrivalled car cleaning performance.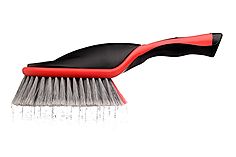 F1 Activebrush Flat
The Alaska Activebrush® range features two new innovative cleaning brushes for car enthusiasts which offer a much faster, safer and greener method of performance cleaning. The new Alaska F1 Activebrush® is the ideal solution for car, bike and quad cleaning whilst the new Alaska A4 Telescopic Activebrush® is ideal for cleaning much larger surfaces such as large cars, vans, caravans and boats.







Activebrush® Highlights
• Inclined premium polyester soft bristles
• Aqua Chamber with patented active valve system
• Uses up to 90% less water -  no hose required
• Rubber edges and long handles
High performance clean that's kind to surfaces
Dirt build-up can cause serious damage to paintwork and so regular cleaning is essential, however some cleaning methods can cause as much damage as dirt!  The Activebrush® range is for those who take their car cleaning seriously. Built with premium soft polyester bristles, the brushes are gentle and safe to use even on the most delicate surfaces and will not harbour grit as a sponge will. Both brushes feature inclined polyester bristles for a thorough, high performance clean, easily removing hard to tackle grime and lifting dried insects. The gentle brushes feature rubber edges, so that accidental knocks and bumps to paintwork will not leave scratches which can quite often occur when using low end brushes.  With their restricted manoeuvrability, traditional hose brushes also run the risk of dragging the hose pipe across the paintwork with nasty results!
The Alaska A4 Telescopic Activebrush® also features an extending telescopic design helping you to clean awkward to reach heights when tackling large scale cleaning jobs such as vans, caravans and large cars.  The A4 also features an angled brush head which is suitable for both vertical and horizontal surfaces and is particularly good for household cleaning tasks such as garage doors, conservatory roofs, greenhouses and patio floors etc.
Aqua chamber gives active water flow for superbly efficient and careful clean
The Alaska Activebrush® range features a 120ml aqua chamber with a unique and patented active valve system which ensures a much faster clean. The valve system draws 120ml of water to fill the aqua chamber in only 1 second which is then evenly released over a 20 second period. That's 1 second immersion in a bucket for every 20 seconds of cleaning, far quicker and easier to use than a hose brush, not to mention a lack of laborious set up or trying to get your vehicle close to a tap.
Love your car and the environment – uses up to 90% less water/shampoo
If helping the environment and keeping the water bill down is high on your priority list then the Activebrush® is the answer. The aqua chamber's unique and patented active valve system has also been specifically designed and tested to use 90% less water than a hose brush. This ensures that all of the water used is effectively deployed, which means an efficient and gentle clean and of course eliminates the need for a constant flow of water by a hose. Extensive comparison tests showed that the Activebrush® uses only 5 - 10% of the water used by a standard hose brush. The results proved the following water usage benefits:
                Hose brush  Activebrush®
Car wash  110 litres     5 - 10 litres
Van wash  150 litres     8 - 15 litres
Keep your hands dry
The ergonomic designs of the two new Activebrush® cleaning solutions make them perfect for cleaning any time of the year. Both have been designed to prevent water running down the handle whilst the purpose built long handles also alleviate the need to submerge your hands in water helping you to keep perfectly dry (with a little care) - welcome features during the cold days of winter.
Availability
The Alaska Activebrush® range will go on sale through Halfords stores and from www.halfords.com on 19th January 2009. For details of your nearest store telephone 08457 626625.
£29.99 – Alaska A4 Telescopic Activebrush®
£18.99 – Alaska F1 Activebrush®
- ENDS -
More information
Members of the press
 
For further information, review samples or images, please contact:
Graham Dowall
The PR Room
Tel: 0845 094 2902
graham.dowall@theprroom.co.uk
About Alaska
With over 40 years of experience, Alaska A/S's origin can be traced back to the start of the 1970s when the company first produced and marketed car windscreen washer additive, which was an innovative product at the time.  From this initial offering, the company expanded into radiator and carburettor additives, which in the 1980s and 1990s extended to a full range of car care products. Today, Alaska is the number one brand for car care products and accessory products in Scandinavia.
 
Alaska is a Danish group with administration and sales offices in Holbæk and Støvring (Denmark) and Stansted (United Kingdom) plus its own production facilities in Denmark and the Far East. The factories consist of seven modern filling lines necessary to produce the many specialist car care products, together with high volume products such as screen wash, shampoo, wax/polish, specialist cleaning items and anti-freeze.