Anam's SMS Bully Filter for Telenor wins Best Social Use Application at the Global Messaging Awards 2009
Dublin, 24th June 2009: Anam, a pioneer of SMS Smart Services, was last night awarded with a Global Messaging Award for the best Social Use Application for the SMS Bully Filter it has provided for Telenor.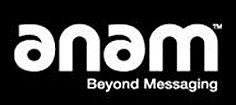 Anam logo
Telenor's Bully Filter service was launched in November 2008 and is powered by Anam's Parental Control solution to give parents peace of mind over their children's mobile phone usage by stopping undesirable, unwanted or distressing messages.
The service is activated by registering the mobile number of each child's phone to a guardian or parent's account. Once a parent has registered a child's mobile phone account they can choose to activate a whole range of monitoring and control facilities such as using a simple black list command to block undesirable SMSs. This helps to block unwanted users from sending unwanted messages.
85% of Norwegian parents think that mobile phones help to make bullying more common, while almost half of Norwegian children have committed mobile bullying or know people who have. Anam's Parental Control technology has allowed Telenor to introduce a service that provides parents and children with increased protection and security.
"Reducing instances of bullying for Telenor's subscribers was the main goal," said Gerry McKenna, CEO of Anam who was received the award on behalf of Anam at last night's event.
"However, it is always nice to be recognised by your peers," McKenna continued. "We're delighted to have won this award and it highlights the hard work and dedication that everyone at Anam has put in to develop our award-winning solutions."
Anam's Parental Control solution also offers additional features that can also be accessed directly from the handset of the parent (or child if they are authorised), including parameters and controls that can be set to help a child take responsibility for their level of mobile usage and expenditure. High watermark alarms or warning messages enable parents to monitor and control their child's phone usage. Parents can impose short periods of "study time" during which messages cannot be sent from or delivered to the child's handset, but stored for later delivery.
# ends #
About Anam
Anam Mobile was one of the pioneers of the value-added SMS services market. The company provides messaging services that allow operators to enrich and personalise the messaging experience for subscribers and help them to increase their revenues from SMS. Key revenue generating applications offered include SMS Money Transfer, providing the ability to transfer money to any contact in your phone's address book and Ad-Funded SMS, inserting highly targeted adverts into text messages as they are delivered. In addition, Anam offers solutions that can help improve subscriber experience including SMS Anti-SPAM and Parental Control.
Anam's patented Smart Services technology offers global mobile operators the ability to rapidly launch new services and can be deployed in both GSM and CDMA networks. Anam Mobile has global customers and partners including Telenor, Telus, Citic, Go Mobile, Cisco, Motorola, Ericsson, CCPU and HP. The company is headquartered in Dublin, Ireland with offices in Boston, USA and Kuala Lumpur, Malaysia.
For further information on Anam, please visit www.anam.com.
For more information
Patrick Smith, Joshua PR
patrick.smith@joshuapr.com
+44 7734 600553