3M, the diversified technology company, is supporting this month's European Week for Safety and Health at Work (19 – 25 October) by highlighting the importance of a thorough risk assessment process when selecting hearing and eyewear protection.
The European Campaign for Safety and Health at Work, supported by the Health and Safety Executive, will be holding its European Week for Safety and Health in October as part of a two year campaign to promote the benefits of completing and implementing a risk assessment. Assessing the risks posed within a work place, understanding current legislation and then facing the plethora of personal protective equipment (PPE) available can be a daunting task for many employers.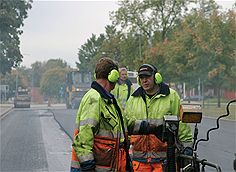 Hearing protection
European Week seeks to demystify the risk assessment process; show that risk assessment is not necessarily complicated; and provide information to help employers complete the process.
Recognised globally as the leader in the manufacture of PPE, 3M is launching two awareness initiatives, including an interactive website and funky direct mail campaigns, beginning this Autumn. The company aims to demonstrate the broad range of products available and simplify the selection process of eyewear and hearing products following a risk assessment.
Eye catching protection
Seeing is believing and 3M recognises that choosing and wearing eyewear is a very personal thing - to try before you buy is a must. So 3M is launching a new, highly interactive website where you can see yourself in a pair of 3M safety spectacles. This new site enables users to upload their photos, choose a pair of spectacles and simply slip them into position to see whether they suit or not. The site's detailed functionality allows for lens colours to be changed and different styles tried until the right pair is selected. Safety never looked so good so go to www.3Meyecatchingprotection.co.uk and try before you buy!
3M's range of eyewear is stylish as well as protective and can be compatible with other PPE. The products have been developed to incorporate features requested by customers including LED lights clipped to the frames and standardised anti-scratch, anti-fog coatings and UV protection. New ranges from Peltor have also been included such as the patented Maxim aspherical lens, featuring 100 per cent distortion-free sight and 180° pure vision.
Preservation not isolation
3M offers a wide and diverse range of hearing protection products that has grown over the past year to include leading brands E-A-R and Peltor. The products cover every protection and cost level requirement and to aid choosing the correct product for the job, a new hearing direct mail campaign focuses on simple selection, hearing conservation and the importance of not over protecting – visit www.3M.co.uk/hearingpreservation. Many people play it safe and buy the highest level of protection possible. However this is not necessarily the safest option and can often cause a danger if hearing protection is too great, affecting the wearer's awareness of warning systems and communication, or affecting their sense of well being due to a lack of sensory input.
To aid correct selection, the Optime Alert System uses simple, logically coloured classification to make the selection process easier by associating noise level with noise band. Distinct icons representing the noise bands identify hearing products that are suitable for that level of protection.
Amazing prizes
To celebrate the launch of these two awareness initiatives, 3M is offering some great prizes for visitors to the websites. Everyone who logs onto the 'eye catching protection' website will be automatically entered into a draw to win a Sony Digital Camera and those visiting the 'preservation not isolation' web page can enter a competition to win a year's supply of 3M hearing products (to a maximum of £500 a month) as well as an iPod Touch with docking station.
The right advice
To help with the difficult task of selecting the correct PPE, 3M offers a range of additional selection tools to help make product choice a clear and simple process. This is supported by the 3M Health and Safety Helpline which allows access to 3M specialists to assist with PPE enquiries, ensuring customers get the best product, support and value for money.
For more information, visit www.3M.co.uk/ohes The 3M Health and Safety Helpline is available on 0870 60 800 60 (UK) or 1800 320 500 (Ireland) during office hours, Monday to Friday.
-ENDS-
Notes to editors
3M, E-A-R, Peltor and Optime are trademarks of 3M Company
Ipod is a trademark of Apple Inc.
3M – practical and ingenious solutions that help our customers succeed
3M is a $25 billion diversified technology company which, since 1902, has been creating innovative products that help make the world healthier, safer and more productive. Well known 3M brands include Scotch, Post-it, Scotchgard, Thinsulate and Scotch-Brite.
3M employs some 79,000 people worldwide and has operations in more than 60 countries. It produces thousands of innovative products for customers in dozens of diverse markets and its 45 technology platforms touch nearly every aspect of modern life - the company has applied its expertise in RFID technology to deliver biometric passports; it is using its understanding of the healthcare industry to provide hospitals with infection prevention and detection solutions; and in 2008 it launched the MPro range of pocket projectors.
The UK and Ireland is home to one of the largest 3M subsidiaries outside the USA, employing more than 3,500 people across 18 locations, including 12 manufacturing sites.
Products manufactured in the UK include coated abrasives, occupational health and environmental safety equipment, adhesive tapes, industrial microbiology products, drug delivery systems, high-performance coatings, secure documents and passport scanners.
Photograph Usage:
Please contact Carolyn Long
The McOnie Agency
Tel: 01483 237230
Fax: 01483 237234
Email: carolyn@mconieagency.com
This information is also available on The McOnie Agency website.
Go to www.mconieagency.com,
1. Roll your mouse over to "press releases", then drop down to 3M, across to OHES, and click.
2. Click "more" to bring up the whole press release.
If you need any help or would like a high res image emailed to you, please contact Carolyn Long.
For Additional Information (excluding photograph usage):
Contact Rebecca Biddle
The McOnie Agency
Tel: 01483 237230
Email: rebecca@mconieagency.com