• Over a third of affected Brits (38%) say summer is the worst time of year for skin irritation from clothing fabric
• Three fifths of Brits have been unable to wear an item of clothing because the fabric was uncomfortable
• Less than 1 in 3 people always check exactly what their purchases are made of
• Almost two thirds of Brits (65%) feel cotton causes the least irritation to their skin
Summer means less clothes for most people, but surprisingly nearly two fifths (38%) of Brits whose skin is irritated by fabric say it is this time of year, more than any other, that clothing fabric causes the most irritation to their skin, according to a poll today, commissioned by COTTON USA.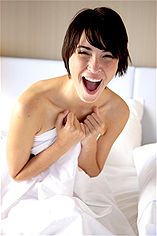 COTTON USA Skin Sense
During each of the seasons of Autumn and Spring, when we are wrapped up against the elements, only a mere 1% of affected adults are most concerned about their clothes causing skin irritation. The same goes for children, with nearly a third of parents of kids with irritable skin (29%) saying that summertime is when their child's skin is most affected by the clothes they wear.
Nearly three fifths (56%) of the Brits have been unable to wear an item of clothing because the fabric was uncomfortable. Furthermore, although a third of parents (33%) say their child has had the same problem, when it comes to buying an item of clothing, less than 1 in 3 people always look at the label to check exactly what it is made of.
The main culprit for irritating skin appears to be nylon, with only 2% of people believing it is the least aggravating material, followed closely by polyester (3%) and wool (5%).
Cotton comes top as the best answer to summer skin blues, with almost two thirds of adults (65%) citing cotton fabric as the least irritating material against their skin.
Dr Sarah Wakelin, consultant Dermatologist at Central London Teaching Hospital, comments: "Skin irritations often worsen during summer due to the heat and humidity. Most people with sensitive skin will feel better in clothes made of pure cotton as it allows the skin to breathe easily."
Steph Thiers-Ratcliffe, International Marketing Manager, COTTON USA concludes: "Cotton is extraordinarily important in our daily lives and this latest research shows how beneficial it is for people in terms of comfort next to their skin. Cotton clothing ranges from denim jeans and shirts through to underwear, T-shirts, sweatshirts, shorts, dresses and children's wear, so is suitable for every occasion, whatever the time of year."
Ends
Notes to editors
The research was carried out by YouGov Plc.  Total sample size was 2107 adults. Fieldwork was undertaken between 27th - 30th March 2009.  The survey was carried out online. The figures have been weighted and are representative of all GB adults (aged 18+).
About Dr Sarah Wakelin
Dr Sarah Wakelin is a consultant Dermatologist at a Central London Teaching Hospital in London, renowned for research and innovation.  Sarah's special interests are allergic and inflammatory skin diseases and she runs a dedicated clinic for the investigation and management of skin allergies. Sarah has a passion for helping people understand their skin and how best to look after it, and has worked with the media on several commercial campaigns resulting in radio interviews, conference speaker platforms and the submission of articles for magazines and journals.
 
Sarah has edited a medical textbook on dermatological treatment and written a user-friendly guide to eczema for sufferers and their families in conjunction with the Royal Society of Medicine, entitled 'Your Guide To Eczema', which has sold widely in the UK.
Sarah is a member of the British Association of Dermatologists and British Contact Dermatitis Society.
About COTTON USA
COTTON USA is an internationally licensed trademark for quality U.S. cotton-rich products. It inspires trust and embodies quality in all products made using U.S. grown cotton. The COTTON USA Mark is a sign of purity, strength, comfort and softness to consumers around the world. It can currently be found on underwear and T-shirts from Bodas, on cotton towels and bedlinen at Marks & Spencer, and on towels at Christy and BHS. More information on COTTON USA and the benefits of U.S. cotton can be found at www.discovercottonusa.com.
About CCI
Cotton Council International was established in 1956 as an international export promotion arm of the National Cotton Council of America (NCC) to introduce and promote products manufactured with American cotton in overseas markets.  CCI conducts a wide variety of programs targeting the trade and consumers to increase the demand for cotton in global markets.  CCI works in close cooperation with the leading international cotton related organizations such as ACSA, AMCOT, ICA, Cotton Incorporated, the Japan Cotton Promotion Institute (JCPI), the Spinners' and Weavers' Association of Korea (SWAK), ICAC and others. CCI's headquarters is located in Washington, D.C., with regional overseas offices located in London, Hong Kong & Seoul and Shanghai, in addition to a global network of representatives.
For further information, please contact:
Sarah Mayer / Paula Figgett
Email: COTTONUSA@kaizo.net
Phone: 020 3043 4163