galabingo.com's chat rooms play cupid for two players
Bingo fan Catherine Whitehead hit the jackpot with a full house when she found love while playing on her favourite website - galabingo.com.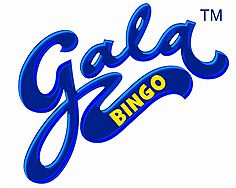 galabingo.com logo
Thanks to the chat rooms on the leading bingo operator's website, the 38-year-old's life has been totally transformed and she's now busy planning her wedding!
Catherine, who is from Preston, met perfect match Julian Brook, 46, who is from Hull on galabingo.com earlier this year. The couple, who live 120 miles away from each other, would ordinarily not have met, but a friendly exchange of good luck in the chat rooms was all it took to spark things off.
Polite conversation in the public chat rooms quickly progressed to regularly waiting for each other online and then conversations in the private chat rooms. Soon they discovered their love of bingo wasn't the only things they had in common and Catherine and Julian swapped email addresses.
They began using instant messaging and a webcam to get to know each other better and eventually arranged to actually speak.
"One evening I called Julian at midnight and we spoke until 7am," said Catherine. "I'd never felt this way about anyone before, it just felt so comfortable from the start."
The first time they met there was an instant mutual attraction. Catherine added: "We already knew each other really well because we'd spent hours online and on the phone chatting. Meeting each other face to face in Hull just confirmed how compatible we were."
While independent Catherine has never been in love before and was cynical about whirlwind romances, she couldn't help falling quickly for Julian.
Catherine added: "He is such a kind, easy going man and he'd do anything for me. It doesn't matter where we are as long as we're together."
Catherine was a Gala Bingo club member for years until ill health temporarily prevented her getting out and about. When her daughter Rebecca suggested she use her laptop to help alleviate the boredom, Catherine went online and found galabingo.com. It was not long before she found the online bingo games provided the same edge of the seat fun as she experienced in the Gala clubs.
Catherine said: "I've tried online bingo with lots of different sites and galabingo.com is definitely my favourite. It's so easy to use and there's a real sense of community. All the players know each other and the chat room moderators know you."
She added: "I can play bingo in the day, but I like to play in the evening because I have more wins then. It feels fantastic when you win, it's so exciting - I really love it!"
At the moment the couple are living apart in their home towns and it seems absence only make their hearts grow fonder. They continue to play online in the week and use Gala Bingo's online chat rooms to stay in contact. At the weekends the couple take it in turns to drive the long distance to visit each other, where they spend their weekends going to Gala clubs together, playing Gala Bingo online and even watching Gala TV in bed together.
Lesley Hall, online PR manager at galabingo.com said: "We're thrilled to hear how galabingo.com has helped to bring this happy couple together. It is great to hear they are enjoying all the entertainment Gala Bingo has to offer together."
Catherine is due to marry finance Julian in Vegas in November this year.
Ends
Notes to editors
Catherine is available to discuss her upcoming nuptials upon request.
galabingo.com
galabingo.com is part of Gala Coral Group's Remote Gambling division. This division is responsible for the development, management and operation of the Group's E-Commerce activities in the UK and worldwide through Coral.co.uk, Eurobet.com, galabingo.com and Galacasino .co.uk.
The division also operates Coral Telebet, our telephone betting business and is the UK's first operator of digital interactive televised bingo by pushing the red button on Gala TV (Sky channel 861).
For further information please contact:
Eshé Brown at Propellernet on 01273 221889 or eshe@propellernet.co.uk
Natalie Flynn at Propellernet on 0127 221888 or natalie@propellernet.co.uk