Secure USB specialist adds anti-malware to combat the growing USB problem
 
5th May 2009 – London, UK – BlockMaster (http://www.GetSafeStick.com), a leading provider of secure removable data devices, today announces the results of an office worker survey that reveals some worrying trends and highlights the overwhelming need for secure USB drives in the workplace.
40% of over 100 office workers surveyed by BlockMaster have lost a USB stick at some point, and nearly two-thirds (64%) have left a drive unprotected in a PC, exposed for anyone to potentially access or steal. Meanwhile, ignorance seems to bliss, as nearly a third (30%) of office workers have no idea whether the USB sticks they are leaving around are secure.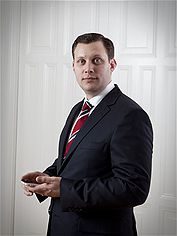 Daniel Östner, CEO at BlockMaster
The proliferation of USB sticks means this represents a growing problem, globally more than 20 million are lost a year. More than a third of workers (35%) store more than 20 files on their USB sticks, meaning that the loss of a single USB stick can expose a high volume of sensitive corporate information. 
Daniel Östner, CEO, BlockMaster said: "A careless attitude towards USB security appears to be rife amongst British workers, and it means organisations are extremely vulnerable to the threat of data breaches, where IP could become compromised and reputations damaged. Managing the security risks associated with removable storage is one of the biggest challenges faced by IT departments today - protecting data outside the corporate perimeter is no longer an option, but a necessity to prevent data breaches. 
Johan Söderström, Chief Technology Officer at BlockMaster continues:
"The evolving internet landscape, brings with it a host of threats to businesses, which are already under pressure to protect corporate assets. To ensure peace-of-mind, it is imperative mobile devices have the necessary protection to fight these threats.
"To stay ahead of these threats we have included within our SafeStick and SafeConsole an Authorised Autorun feature, which prevents organisations being hit by malicious attacks, such as the Conficker worm."
SafeConsole 3.3, the management software for SafeStick, will be unveiled at InfoSecurity Europe this year, with the following new features to ensure maximum workforce productivity and organisational security:
File Blocker: File Blocker anti-malware can be configured in SafeConsole to put data storage policies, such as banning certain file formats (MP3s and executables) for storage and also terminating executables, such as trojans and malware applications. The Publisher feature enables white-listed applications and content to be securely deployed.
EasyShare: Users are able to share individual files on the SafeStick by creating a temporary password to access the file, thus keeping all other files inaccessible and hardware encrypted when sharing. This unique feature enables users to share documents securely on untrusted machines without exposing the main secure storage area password or files. 
Auto disabling: Data at rest on USB sticks is often neglected, but SafeStick will now automatically disable if lost or its whereabouts to the company is unknown for a configurable period of time. This provides greater control for organisations over removable data and removes the burden of manually locking and wiping information.
Certificate Carrier: This feature will enable SafeStick to double-up as a mobile authentication token, targeting organisations that have deployed a Public Key Infrastructure (PKI) and need to provide digital identities for mobile workers.
Mac OS availability: SafeStick is now compatible with the Mac operating system, extending its availability from PC to Mac users. With traditional Mac users including architects and media industry executives, SafeStick will ensure that concepts and designs that provide competitive edge are always protected.
All present SafeConsole customers are eligible for an update.
-Ends-
 
About BlockMaster
BlockMaster provides complete control of your USB drives. SafeStick® offers mandatory password protection and always-on encryption of all stored data. SafeConsole® enforces management control over SafeStick USB drives on an enterprise scale with remote life-cycle management and device enhancement such as remote password recovery, customised password policy, audit for compliance, portable authentication tokens and secure portable application delivery.

SafeStick is available worldwide through distribution in over 40 countries and is trusted to serve the versatile security needs of Fortune Global 500 businesses, government agencies, police and military. Thousands upon thousands of people worldwide have made the switch and choose to protect their privacy and sensitive information with SafeStick.
 
Further information
Rocket PR
Mital Joshi/Alex Brooks
blockmaster@rocketcomms.net
+44 (0) 8453 707 024