- Get your personal fitness drill at armyfit.mod.uk –
The British Army is an expert in fitness and this April celebrates the 150th anniversary of its Physical Training Corps (APTC). From coaching troops during their Phase 1 training, to providing specialist advice for adventurous training and preparing troops for deployment on operations, the APTC is a crucial part of the British Army, with its Physical Training Instructors (PTIs) providing all fitness education for Soldiers and Officers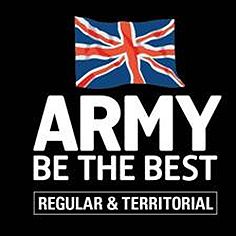 Army logo
The public can celebrate this landmark date by working out with the Army through its official fitness guide at armyfit.mod.uk. The website contains a wealth of information from the Army's skilled PTIs on maintaining all aspects of a healthy lifestyle such as exercise, nutrition and motivational tips and the chance to follow a 14-week official routine, which the Army is confident will make you 'Army-Fit' – irrelevant of your present fitness levels.

The APTC was formed in 1860 as the Army Gymnastic Staff. It was renamed the Army Physical Training Staff in 1918 and was given its present corps status by Army Order 165 in 1940. Based at the Army School of Physical Training (ASPT) in Aldershot, its instructors are attached to every battalion and regiment in the British Army.
Current operational demands in Afghanistan mean the need to produce and maintain a fully-fit fighting force has never been more important, and the APTC's instructors ensure troops are fully prepared for the challenging environment.
The APTC Corps also has a rich role in our Olympic history with Kriss Akabusi a former Warrant Officer Class 2 in the APTC and Kelly Holmes who was a qualified Army Physical Training Instructor. Kriss Akabusi takes part in motivational podcasts available on the Army fit website.
Celebrate 150 years of fitness expertise with the British Army by searching Army fit, and signing up for your personal fitness guide.
Ends
For more information, interviews and images please contact:
Kate Todd
kate.todd@bisslancaster.com
020 7467 9264
Laura Grant
laura.grant@bisslancaster.com
020 7467 9229