GetThemIn lets you buy real, last minute, drinkable gifts using Facebook
LONDON, 19th December 2008 – GetThemIn is a Facebook application (http://apps.facebook.com/getthemin) that allows people to buy each other real beer, wine or other alcoholic drinks for the first time ever - perfect for sorting out those last minute Christmas present dilemmas or getting the Christmas drinks in with your mates without actually being there.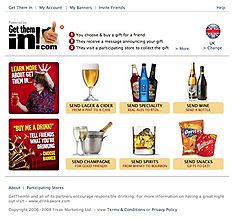 GetThemIn Screenshot
"Christmas can be a nightmare when it comes to buying all those last-minute gifts and making sure you see all your friends for a seasonal drink. Help is at hand with GetThemIn – an instant way to buy your Facebook friends a drink at Christmas. With a GetThemIn participating store within ten minutes of most people in the UK, it's a really innovative, instant way of marking this special occasion," said Jay Feeney, Founder of GetThemIn.
People can choose from a variety of drinks and other real-world gifts and send them to their friends using Facebook platform and PayPal. Recipients receive a personalised message from the sender via SMS, email and Facebook, with the option to keep it virtual or redeem their gift as a voucher that can then be used in one of hundreds of First Quench outlets across the UK (including Threshers, The Local, Wine Rack and Haddows).
The team behind Get Them In has also just made a short video to explain how it all works in a nutshell, so head on over to http://www.tinyurl.com/getthemin to see how 'John' helped Jay celebrate his birthday and Jay helped cheer up 'Chris' who's just been dumped by his girlfriend.
Drink brands currently available on the GetThemIn application include Fosters, Cobra, Heineken, Tuborg, San Miguel, Bulmers Cider, Newcastle Brown, WKD Blue, Old Peculier, Blossom Hill, Hardy's, Taittinger, Radcliffe's D.B., Teacher's, Cockburn's S.R., Harvey's Bristol Cream and Courvoisier V.S.
GetThemIn has been officially granted the DrinkAware trust trademark license and will be donating a percentage of its profits to COUNTED4, a unique venture that treats, counsels and promotes the health and well-being of anyone affected by substance misuse.
ENDS
For further information or to request an interview, please contact:
Jonathan Hopkins
+447787156656
jonathan@sheddigital.co.uk
Notes for Editors
> USEFUL LINKS:
How does GetThemIn work? (video): http://www.tinyurl.com/getthemin
GetThemIn Facebook Application: http://apps.facebook.com/getthemin
GetThemIn website: http://www.getthemin.com
GetThemIn blog (contains logos/screenshots etc): http://www.getthemin-news.com
> ABOUT THE GETTHEMIN TEAM:
Jay Feeney
GetThemIn is the brainchild of Jay Feeney. An entrepreneur by nature, Jay founded his first company at sixteen and has not stopped since. During his university years, Jay ran a number of ventures from lucrative promotional music events, to managing the University student radio station. Jay then founded Freak Music, a company that has now become a leading promotional enterprise, dealing with the brand, product and event management for Scotland's busiest bars and clubs, music events and breweries. His creative passion has led to the founding of Dynamic Blue, a project-based IT collective; "Those Media Guys", a video and new-media production company; and the start-up of thesnitcherdesk.com, a public paparazzi picture agency that recently scooped the first citizen-journalism worldwide exclusive. Jay's talent is in spotting opportunities to creatively connect the public with gaps in the marketplace.
Martin Dowson
Martin left Accenture, the global management consultancy, to work with entrepreneurs in start-up mode. As Head of User Experience at Accenture UK Martin worked with FTSE100 companies on their customer propositions.  Responsible for the user experience design of Sainsburys Online Shopping in 2001, Barclays Online Banking, and Singapore Airlines booking engine, the User Experience Group were at the forefront of quality customer experience design. Martin's role was to marry a passion for great consumer experiences with the business reality of profitable growth. Since leaving Accenture Martin has created Sinclair Experience Ltd, built up a business coaching practice and is currently responsible for the business development of two community-based web services. 
 
AJ Ostergaard
AJ has been entirely responsible for the technical development of GetThemIn, working hand in hand with Jay to turn his creative ideas into a technical reality. Even at university AJ was involved with a number of innovative business ventures including a gold-based e-currency in the Middle East. After this formative experience, AJ became a founding shareholder and Technology Architect for beCogent Ltd – a multi-million pound out-sourced call centre with a focus on leveraging investment in technology.