Notion Capital, the venture fund set up by former MessageLabs executives, backs Cellcrypt to capitalise on the potential for secure voice solutions
London, 9th June 2009: Cellcrypt (www.cellcrypt.com), the leading provider of secure mobile voice calling, today announced the completion of a new funding round. Alongside existing investors the latest round includes Notion Capital, the investment firm set up by founders and senior executives from successful internet security company MessageLabs which was sold to Symantec in 2008 for $695M, marking the largest ever transaction in the Software as a Service industry. Stephen Chandler, a founding partner at Notion Capital and former President, EMEA and CFO at MessageLabs, will join the Cellcrypt Board.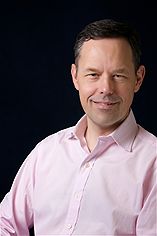 Simon Bransfield-Garth
The additional funding will be used to further expand Cellcrypt's international presence, following the recent opening of its US office and build on the successful launch last month of Cellcrypt Mobile, the company's secure voice calling product for BlackBerry®, that sits alongside the company's other successful products for Nokia and Windows Mobile devices.
"We are really excited to invest in Cellcrypt, as a company with ground-breaking technology and a compelling proposition in a currently under-served market" said Stephen Chandler, partner at Notion Capital. "Traditionally, high security voice calling has only been available using specialised military-specification equipment, but Cellcrypt now makes this easily accessible to all with no impact on service performance."
Chandler continued, "Cellcrypt is ahead of the market in delivering unmatched voice call quality, international calling capability and high reliability across wireless networks, using standard devices and infrastructure. We believe that Cellcrypt is well placed to lead this fast growing market and that we have highly relevant skills and experience across the Notion team to help them to execute successfully."
Cellcrypt Mobile provides end-to-end, real-time encryption to protect conversations from being compromised without the need for specialised equipment or expensive new infrastructure. In addition, Cellcrypt PBX Gateway connects to commercial PBX systems, allowing users to complete secure calls from existing landlines to mobile devices or other landlines.
Cellcrypt technology provides encryption to levels specified by governments internationally and is currently undergoing certification to the FIPS 140-2 standard approved by the US National Institute of Standards and Technology (NIST). Cellcrypt operates on all major wireless networks including GPRS, 3G and Wi-Fi® networks.
"Most governments and corporates now secure their email - voice is the last unsecured data service," said Simon Bransfield-Garth, CEO at Cellcrypt. "Cellcrypt has demonstrated product leadership and this funding supports the company's growth internationally from the Americas, across Europe to the Middle East and Asia. I am delighted to welcome Stephen to the Board of Cellcrypt and look forward to working closely with him and the other industry experts at Notion Capital to benefit from their unique combination of knowledge and experience in this sector." 
About Cellcrypt
Cellcrypt is the leading provider of technology to secure mobile voice calls on everyday smartphones. Founded in 2005, Cellcrypt's R&D innovation resulted in Encrypted Mobile Content Protocol (EMCP), an Internet Protocol (IP) based technology that optimises delivery of encrypted data between mobile devices over wireless networks.
 
Cellcrypt's products are undergoing security certification to the FIPS 140-2 standard approved by the US National Institute of Standards and Technology (NIST), operate over data-enabled networks including 2G (GPRS/EDGE), 3G (HSPA, CDMA/EV-DO) and Wi-Fi®, and are optimised to run on Nokia® Symbian, BlackBerry® and Windows Mobile® smartphones. Cellcrypt is a BlackBerry Alliance Partner.
Today, Cellcrypt solutions are used routinely by governments, enterprises and senior-level executives worldwide. Cellcrypt is a privately-held, venture-backed company with headquarters in London, UK and offices in USA and Middle East.
 
For more information please visit: www.cellcrypt.com
About Notion Capital
Notion Capital is a venture fund and advisory business that invests in growth businesses in the IT sector, with a particular focus on Internet-based services with recurring revenue models. Notion creates value by helping companies and management teams to accelerate growth through financial injection combined with strategic and operational participation. The partners are all proven entrepreneurs and line executives, having founded and built a number of highly successful IT businesses.
For more information please visit: www.notioncapital.com 
Press Contact:
Patrick Smith, Joshua PR
Tel: + 44 (0) 7734 600553
Email: patrick.smith@joshuapr.com
John Sacke, Sacke & Associates Inc.
Tel: 416.493.5723
Email: johns@sackepr.com