Satellite-based solution delivers high quality calls on consumer smartphones
DSEI 2009 Defence and Security Exhibition, London, UK - 8th September 2009: Cellcrypt (www.cellcrypt.com), the leading provider of secure mobile voice calling, today announced that Cellcrypt Mobile is available over Inmarsat's broadband satellite services, enabling encrypted voice calls to be made on popular smartphones from anywhere on the planet, for the first time.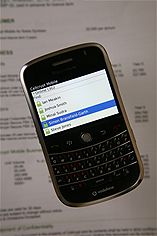 BlackBerry Bold
Cellcrypt Mobile for Satellite™ solution provides end-to-end real-time encryption on smartphones, such as Nokias and BlackBerrys, to prevent private conversations from being compromised, enabling individuals within corporations and governments to converse in a highly secure manner without the need for specialised handsets.
The solution is being unveiled for the first time and showcased at Cellcrypt's stand
(# 519, North Hall) during the DSEI Defence and Security Exhibition, 8 – 11 September, London, UK.
Cellcrypt uses the latest Internet technology to provide unmatched voice call quality and real-time encryption to levels specified by the US government. From the same handset, it operates on all major wireless networks including 2G (GPRS/ EDGE), 3G, Wi-Fi® and now satellite.
"This is the first solution that provides encrypted voice calls over satellites using commercial off the shelf smartphones. It provides a highly convenient and cost effective mechanism for people to make secure calls from locations where they have no cellular coverage or simply cannot rely on it" said Simon Bransfield-Garth, CEO of Cellcrypt.
For existing Cellcrypt users, this solution adds the capability of being used anywhere even when there is no cellular or WiFi network coverage. For existing users of Inmarsat's mobile broadband services – particularly its land-based Broadband Global Area Network (BGAN) service – it adds high-strength security as well as the benefit of being able to use a market-leading handset. The same handset can also be used to make secure calls on cellular and WiFi networks adding the convenience of a single device with a single phonebook for all secure calling situations.
"We are very pleased to support Cellcrypt with this solution: we anticipate interest from military and enforcement agencies, as well as mining and extraction companies who are routinely at risk from interception in the regions where they operate," said Gordon McMillan, Director of Government Services at Inmarsat. "This adds additional voice functionality to our mobile broadband services, particularly BGAN, and will address increasing concerns about the security of communications among a wide range of Inmarsat users".
Cellcrypt Mobile for Satellite connects WiFi-capable Nokia Symbian S60 and RIM BlackBerry smartphones directly to Inmarsat mobile broadband terminals.
More information can be found in the User Guide downloadable at http://www.inmarsat.com/Support/BGAN/
ends
About Cellcrypt
Cellcrypt is the leading provider of technology to secure mobile voice calls on everyday smartphones. Founded in 2005, Cellcrypt's R&D innovation resulted in Encrypted Mobile Content Protocol (EMCP), an Internet Protocol (IP) based technology that optimises delivery of encrypted data between mobile devices over wireless networks.
 
Cellcrypt's products are undergoing security certification to the FIPS 140-2 standard approved by the US National Institute of Standards and Technology (NIST), operate over data-enabled networks including 2G (GPRS/EDGE), 3G (HSPA, CDMA/EV-DO) and Wi-Fi®, and are optimised to run on Nokia® Symbian and BlackBerry® smartphones. Cellcrypt is a BlackBerry Alliance Partner and Inmarsat Connect Partner.
Today, Cellcrypt solutions are used routinely by governments, enterprises and senior-level executives worldwide. Cellcrypt is a privately-held, venture-backed company with headquarters in London, UK and offices in USA and Middle East.
 
For more information please visit: www.cellcrypt.com
About Inmarsat BGAN
BGAN (Broadband Global Area Network) is a highly-portable land-based service.  It supports standard IP connectivity at up to 492kbps, guaranteed or 'streaming' data rates at a minimum of 384kbps and circuit-switched voice at land-line quality, all accessible simultaneously.  It is used extensively by the media, oil and gas, mining, and construction sectors; and by governments and military agencies, for whom its global IP-based services and range of interoperability solutions represent a viable augmentation to existing military satcom services.
For more information please visit: www.inmarsat.com
Press Contact:
Patrick Smith, Joshua PR
Tel: + 44 (0) 7734 600553
Email: patrick.smith@joshuapr.com
John Sacke, Sacke & Associates Inc.
Tel: 416.493.5723
Email: johns@sackepr.com